More Important to Spurs' Success: Tim Duncan or Gregg Popovich?
April 3, 2012

Marc Serota/Getty Images
Since Tim Duncan was drafted with the first overall draft pick by the San Antonio Spurs in 1997, few players have been more important to their teams.
Duncan has won over 70 percent of his games with the Spurs, a record of accomplishment that arguably says even more than his four championships and two MVP trophies. In line with his even-keeled persona, the Spurs' 6'11'' superstar has been a model of consistency in his fifteen seasons.
His team has followed suit, making the playoffs in each of Duncan's seasons and losing in the first round of the postseason only three times (with injuries typically playing a key role).
Today, however, San Antonio's most valuable player isn't a player at all.
Gregg Popovich has engineered a new-look club built to rely less and less on a Tim Duncan contemplating his not-too-distant retirement. Named the Western Conference's Coach of the Month in both February and March, Pop has turned Duncan and his co-dependent supporting cast into a well-oiled machine.
The coach's credit must be shared with General Manager R.C. Buford on this one—the front office bestowed its "Big Three" stars with exceptional depth via the draft (Kawhi Leonard, Tiago Splitter, DeJuan Blair), trade (Stephen Jackson) and savvy, if unassuming, free-agent acquisitions (Gary Neal, Danny Green, Patrick Mills, Boris Diaw).
No one, however, can diminish what Popovich has been able to do with this crew in relatively short order. Coach Pop—and Coach Pop alone—has directed an ensemble production that behaves more like the Kentucky Wildcats than a traditional NBA contender.
Of course, it can be argued that this team still only goes as Tim Duncan goes. Even as Tony Parker continues to have a standout season, and even as Manu Ginobili makes his increasingly successful return from injury... this still feels like Duncan's team.
And not in the hopelessly nostalgic sort of way, either.
Duncan's per-minute numbers really don't look much different than they did five or six years ago. The only centers besting his 25.5 points per 48 minutes are Al Jefferson and Dwight Howard. That means that when Duncan plays big minutes, he still comes out ahead of All-Stars Andrew Bynum and Marc Gasol (beating Gasol by a whole six points).
He's also seventh among centers in per-minute rebounding, third in blocks per personal foul and second only to Joakim Noah in assists per 48 minutes.
This guy still does a little bit of everything, and he still does it incredibly well. 
Nevertheless, there's a reason Duncan has remained fresh enough to average 18.9 points, 11.1 rebounds and 1.6 blocks over his last 10 games. His supporting role players have given him the opportunity to rest at key junctures and allow others to do some of the heavy lifting.
More accurately, Gregg Popovich has given him that opportunity, stubbornly watching his stars' minutes and forcing an unproven roster of projects and castaways to step up and play championship basketball.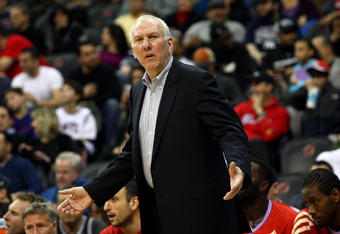 Chris Chambers/Getty Images
San Antonio has lost only five of its last 29 games, a sequence reminiscent of this team's championship seasons.
The 11-game winning streak that kicked off the impressive stretch came on the heels of an overtime loss to the Dallas Mavericks on January 29th, a "setback" that paradoxically may be the Spurs' finest hour of the season.
Pop's club entered the fourth quarter trailing by 11 points and playing uninspired basketball. Then, Popovich decided to send a message—to his starters, to his bench, to the Mavericks and—yes—to whoever else was watching.
The world-class iconoclast left a bench unit comprised of Tiago Splitter, Matt Bonner, Gary Neal, Danny Green and James Anderson on the floor for the duration of the game.
And, of course, as if Popovich had written the script himself, these guys erased a double-digit lead against Dallas' starters and played like they were the ones with the title rings. The bench unit ultimately came up just short in overtime, but the best kind of damage had already been done.
The reigning champion Mavericks learned to fear San Antonio's entire roster. The Spurs' roster, in turn, learned to fear no one.
Needless to say, it's easier for guys to believe in themselves while playing for a coach who believes they can be better than anyone else imagined.
Few coaches in the NBA were willing to take a chance on the less-than-thrilling Danny Green, much less willing to let the guy start in 22 games. Popovich saw a Bowen-like perimeter defender who could play hard and hit some spot-up threes. 
Still fewer coaches would have given the untested and undrafted Gary Neal an opportunity to become the team's sixth man off the bench in 2010. Under Popovich, the 27-year-old out of Towson has improved rapidly in each of his two seasons and given the Spurs' a spark-plug who can score from almost anywhere.
On route to its recent nine-game winning streak, San Antonio impressively won five games in six nights, sweeping its back-to-back-to-back series in the process.
Popovich sat one of his superstars in each of the three games, a luxury he's earned throughout the season. He's insisted on a team concept wherein not even the best players become islands unto themselves.
In short, Pop has insisted that his team actually play like a team, a key to success that has become even bigger than the Big Fundamental.