Baylor vs. Notre Dame Women's Tournament Final May Trump Kentucky Men's Win
April 3, 2012

Justin Edmonds/Getty Images
As the Kentucky Wildcats beat the Kansas Jayhawks 67-59 on Monday night, March Madness is officially over.
Not so fast.
The NCAA women's Final Four championship game could be better than the men's and, in some basketball circles, is probably more anticipated.
Unfinished business is the motto for the Lady Baylor Bears in this year's tournament and the same can be said for the Lady Fighting Irish of Notre Dame after last year's Final Four championship loss.
Notre Dame is a crafty, savvy and experienced 35-3 team that seems to truly feed off the energy of junior guard Skylar Diggins.
The spectators know Diggins.  She's the girl that caught your attention last year due to her beauty but the more you watched, the more she intrigued you with her real basketball sense and defense. 
Diggins is a true gamer and personally, around here, she's referred to as Lady Rondo.
Seniors Devereaux Peters and Brittany Mallory most certainly are the catalysts in the Lady Fighting Irish's quest in their unfinished business from last year.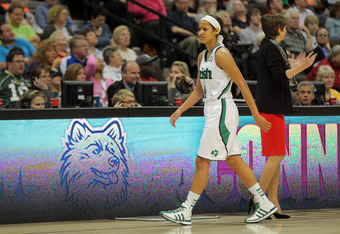 Justin Edmonds/Getty Images
Notre Dame was supposed to win last year's championship game and now in this high-profile game, Griner is playing the role of Lady Goliath standing in the Irish's way with the Bears' undefeated record of 39-0.
Not to mention the fact that the Lady Bears have already beaten Notre Dame this year. In this game, like every team on the Bears schedule this year, the question is—who is going to guard Griner?
Zones, double-teams and lots of communication are the most likely game plans for Notre Dame and head coach Muffet McGraw because there's nobody on the Irish roster listed at taller than 6'2".
Griner is 6'8" and doesn't just dunk during warm-ups. 
Zones can be broken down, double-teams leave shooters like sophomore guard Odyssey Sims open, and communication is a lot of talk.
Shooters lose more basketball games than win them, and talking has never won anything. 
When these two teams met in November it was a scoring fest that saw Baylor win convincingly in Waco, 94-81.
Diggins scored 27 but also had a game-high seven turnovers that were a big part of the Irish loss.
Griner was efficient in her scoring 32 points on 14-for-18 shooting and a grabbing a dominating game-high 14 rebounds. 
Whether unfinished business or part two for the Bears and Irish, this game has all the qualifications to become a classic. Real basketball fans will be tuned in.