Being 'Larry Bird:' Tug Coker Brings the Celtics Legend to the Stage
April 2, 2012

Over the past few weeks, all the talk in sports business has been about Magic Johnson. From "The Announcement" to buying the Dodgers, the Hall of Famer and entrepreneur has made headline after headline.
In the middle of all things Magic came the subtle announcement that his longtime rival and friend, Larry Bird, was retiring from his role as President of the Indiana Pacers. It is fitting in many ways that Bird's exit comes as Johnson's position continues to grab center stage, as that was really the nature of their rivalry and friendship—one upfront, one quietly working behind the scenes, both driven to excellence at a level well beyond anyone's expectations.
The Johnson/Bird story is certainly one for the ages, and both characters will literally be center stage when the Broadway play Magic/Bird opens on April 11 at the Longacre Theatre in New York, and yes, both will be on hand.
While Kevin Daniels finds his footing portraying the outgoing Johnson in the play (now in previews), it is left to Tug Coker to bring the reserved Bird to life on stage eight times a week. By all accounts, the Virginia native has nailed the role thus far, surprising even those closest to Larry Legend.
We spent some time with Coker to find out what it is like to portray such an iconic personality, and what makes him succeed in the role on stage.
 
 
Bleacher Report: What is the biggest challenge in portraying Larry Bird every night?
Tug Coker: Well, I don't think I'll be getting a tan anytime soon. That's a challenge. Aside from that, playing Larry requires complete concentration. My character doesn't say too much, so listening becomes critical. And that takes energy—energy to stay present, energy to be aware of the character's surroundings and, on a logistical level, energy to know which scene is coming up next.  There are something like 43 scenes in a 90-minute play. So when I'm offstage, I'm constantly thinking about which costume I'm in, which wig I should be in and do I have the mustache or not.
BR: You have a basketball background.  What are your best memories of playing against some popular players in high school and in AAU?
TC: I went to Stafford High School in Fredericksburg, Va. It was a pleasure to play in one of the most competitive conferences in the state. Still, many of my fondest highlights were on my AAU teams and in summer camps.
I remember one time I played on an All-Star team representing Washington, D.C. in Long Beach, California. Our team had Lonny Baxter [Maryland], Mark Karcher [Temple], Tony Stanley [Dayton] and Moose Bailey [UCLA], to name a few. I remember going to a barbecue at Moose's Dad's house in Los Angeles, and Toby Bailey [Moose's Brother] was there. Toby had helped UCLA win the national championship that spring, and I loved that team. 
I asked Toby where he got his hops from, and he said he did 400 calf raises a day. You better believe I was doing 400 a day for the next year of my life. Didn't matter, though; I still couldn't jump.
BR: I understand you are also a big hoops fan; any great memories of seeing games in the DC area when you were younger?   
TC: I'm a huge fan of all sports, period. There are moments in people's lives when they see greatness in the room.
One I'll never forget is seeing Allen Iverson play in high school. He was a junior, and I was a freshman.  I went to Charlottesville in 1993 to the Virginia High School State Semifinals to see a rival school play [Woodbridge High School]. They were playing Bethel High School, and everyone was talking about this kid named Allen Iverson. I'd never heard of him, but there was a huge buzz about this kid all over the stadium. 
Bethel was trailing pretty big after a lackluster first half, but boy, Allen took over in the second. I'm talking complete domination. Threes, five feet behind the line. Caught a ridiculous alley-oop. AI was like 5'10". I picked my jaw off the floor and watched Bethel win in overtime [they won the state championship]. It was the first time in my life I knew I was watching a kid my age that was definitely going to be a pro.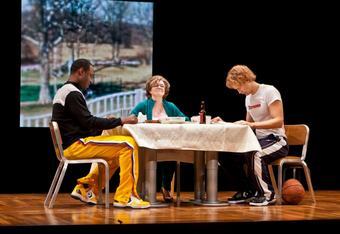 BR: What is the toughest part about learning to be Larry Bird?
TC: The toughest part about learning to be Larry Bird is knowing what to do with the information given to you. Many actors create a backstory, or life history, for their character. Well, the thing about playing a real person is that you don't have to make it up. You have a documented life with tons of books, videos, opinions, personal history to sift through.
So after you read every book, see every YouTube clip and take every personal account, you have to decide which pieces of information you want to bring into the play with you. The show's only 90 minutes, but Larry's been alive for 50-plus years. So you have to figure out what information best helps you tell the story that the play is trying to tell and leave the rest behind.
BR: Is there added pressure knowing that some great basketball players, the Indiana Pacers, were in the audience recently, are going to be watching you and critiquing your form?   
TC: It's not added pressure; it's fun. I already challenge myself to perform the basketball stuff well because I want to represent Larry Bird in a positive way. But it's funny to think that some of the world's greatest basketball players are coming to see me shoot some hoops. For a lot of my life, I wanted to be a professional athlete. It just took me a little while to realize I'm much better at being an actor acting as a professional athlete.
BR: Do you train to keep your basketball form fresh, and if so, how often?
TC: I've pretty much been on the court everyday since I got the job. Before rehearsals started, I was getting up 300 shots a day and 100 free throws. And now that we've figured out which basketball plays we're using for the show, I'll still go to the gym five days a week and work on the moves. Get up 50 free throws. Hit shots using both hands. It's important to me to make buckets with both hands in the show.  And I'm always mindful of Larry's shooting technique. Most basketball fans know Larry's over-the-head release. It's a specific, very iconic release.
BR: Some of the others in the play seem like they have a good understanding and feel for the game. Do you guys talk hoops, or even watch video together to stay in sync?
TC: I think everyone in the show has enjoyed watching video of 1980s hoops. Peter Scolari says he was at a few of those classic games. Such an amazing era for basketball. Tommy Kail, the director,  and Francois Battiste (plays Bryant Gumbel and others) and I are especially big fans of the game.  We'll sit around during breaks and argue over the greatest sports nicknames or the all-time greatest dunks.  
I'm partial to Vinnie "the Microwave" Johnson for great nicknames. I imagine being called "The Chief" would be pretty cool.
BR: Other than Larry and Magic, any other hoops players are you looking forward to meeting or picking the brains of?   
TC: Well, I've had the unbelievable pleasure of talking to Danny Ainge and Bill Walton to prepare for this role. They could not have been kinder. I talked to Larry on the phone for about 30 minutes, and that was an out-of-body experience. He was so nice. I'm humbled by how kind people have been in helping me. 
As far as other hoops players, I'd be happy to meet every player. I admire athletes, and I respect and appreciate how hard they work to become great at what they do. Of course, I'd like to meet Charles Barkley. I loved him as a player, and I think his show on TNT is one of the best shows on television.  Meeting Michael Jordan would be a personal thrill. It'd be an honor to meet John Havlicek.  He's my Dad's favorite player, and I'd love to get Dad and Mr. Havlicek together. Dad would probably cry like a baby.
BR: With all your training as an actor, did you ever think that your two loves, sports and theater, could ever come together like this on Broadway?   
TC: No. I never thought that basketball and theater would come together like this. The job is a dream come true. To be able to meet so many people I admire in the sports world because of Magic/Bird has been amazing. On the flip side, to be able to bring sports fans into the theater, some for the first time, is awesome. I'm excited for people to see what theater can make possible. I really enjoy telling this story and being a part of this production. 
And to be on Broadway? It's an honor to work at the Longacre Theatre every night. Roles like this don't come around very often. I am very aware of this. It's a thrill of a lifetime.
BR: What is the one lesson you want people to take away from your performance?   
TC: This isn't really a lesson, but I want people to understand that this is a play about relationships.  Relationships shape everyone, even the titans of basketball. So I think it will be exciting for people to see how Larry Bird was shaped by his relationship with Red Auerbach. How he was influenced by his relationship to Magic Johnson. By his mother. Most people achieve greatness with the help of other people, and hopefully, audiences will enjoy seeing a play showing how and why these two American heroes became the best at what they do.