Resistance Pro: Billy Corgan's Wrestling Obsession Is the Dark Horse to Watch
April 2, 2012

March 23, 2012
Maybe it's the rain, but the craggy-rocked Gothic structure on this Chicago street gives one the impression of being a lightning bolt away from some seriously mad science.
The red neon letters hanging over Dearborn Street spell Excalibur, the night club with two black gargoyles flanking the entrance stairwell.
I can think of no better place to watch a live professional wrestling show.
The creature that came to life here late last year was Resistance Pro, a promotion that generated early buzz thanks to the involvement of Smashing Pumpkins singer and scribe Billy Corgan.
Tonight marks the company's fourth event, Obsession, and features some name talent—a wrestling appearance by X-Pac, and Harry Smith defending his Heavyweight Championship against Rhino.
Prior to the show is a casual meet and greet in the lounge. Corgan signs some vinyl records for a fan. In person, Harry Smith, the son of "British Bulldog" Davey Boy Smith and nephew to both members of the Hart Foundation, seems 17 feet tall.
At another table, Puerto Rican wrestler Lince Dorado is wearing headgear that evokes the Japanese grappler Tiger Mask. To his left is Serenity, who, at 21 years old, is already a five-year veteran of the sport.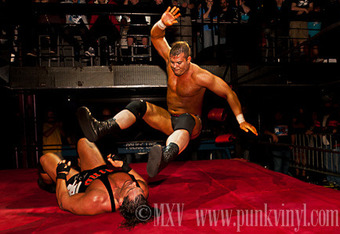 Looming nearby is the Barbarian, who was battling Chicago's own Legion of Doom in WWE a generation ago. His close-cropped hair is shaved to resemble a talon gripping his skull, and the flecks of gray that now catch the light only add to the effect.
The arena conjures up images of the Globe Theater. Groundlings can watch the ring standing on the first level (blue Chicago police barriers are a nice local touch), but the best seats are along the rails on the second- and third-floor tiers directly overlooking the action.
Two kids play in the crow's nest situated just above the downstage right ring post. Or is that a go-go dancing platform? No...in this place, it's a crow's nest.
No sign of the ghosts who allegedly haunt the building, but a steady crowd of the living filters in—all sorts, from families to young couples, to diehard wrestling fans. Rhino poses for pictures with two well-dressed gentlemen who, it turns out, are members of the Japanese consulate.
One of them, Tomo Minowa, tells me they became fans of Rhino when he tag-teamed with Tajiri throughout their country. Minowa takes a drink from his longneck and chuckles, "Imagine, a diplomat watching pro wrestling!"
Also in attendance is a blue-hoodied teenager who has never been to a wrestling show but is a fan of Corgan. She stays for the whole show, laughing when the action is good. As the brutal sounds of the Almighty Sheik and Steven Walters match reverberated to her third-floor perch, she wondered aloud, "That's really got to hurt, doesn't it?"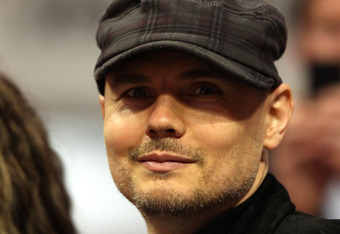 Jonathan Daniel/Getty Images
Corgan is hopeful a potential reality show will build upon this diverse and dedicated fanbase. He said, "There's no shortage of offers, but it's finding the right one."
For Corgan and his partners, Chicago wrestling promoters Jacques and Gabriel Baron, credibility with the audience is a key component of Resistance Pro's growth. Though the company was founded June 8, 2011, the inaugural event would not debut until November 25. Cautious, long-term planning such as that could be why Gabriel said Resistance Pro is "expanding at a slow and steady rate."
The promotion has also been careful not to squander the cache of exposure Corgan's music fame brings. Nothing about the evening shouts vanity project or some stunt just to get a mention on TMZ. Corgan's "Gorilla position" is on the second tier, watching and reacting to every match on the card, in unison with the other fans.
Behind the scenes, Corgan and the Barons are earning a reputation for looking after their talent, namely with concussion screenings that follow the Sports Legacy Institute's guidelines—the first wrestling company to do so.
Serenity, who wrestled a hard-hitting match with "The Matrix" Taylor Made, said Resistance Pro was "a completely different environment" from other promotions. Later on, X-Pac would tweet, "Thank you, Billy. Very well-run show."
"Billy loves wrestling," said champ Harry Smith. He also mentioned that R-Pro has "been great" and is glad to see the mix of veterans and "up-and-coming talent like Kevin Steen."
Those sentiments were echoed by the man Smith will be facing for the second time at Resistance Pro, the last ECW World Heavyweight Champion, Rhino. "Harry Smith is talented. He needs someone like me to elevate him, to make him better. What makes you better is good competition."
The Detroit native stated he loved working for RF, but also, from a fan's perspective, "I enjoy the product. It's well-rounded, has a little bit of everything."
From this fan's perspective, I agree. Some highlights:
The show begins with a snarky promo from the chiseled Darcy Dixon, who is actually given the chance to exude some personality—an almost unheard-of feat for women on wrestling programs these days. When ECW-alum Lou D'Angeli ("Lou E. Dangerously") sabotages the promo, Dixon quips, "I'm in the sparkly stuff. I look great. Look at that guy."
X-Pac, Sean Waltman, appears as healthy and energetic as he did during his D-X heyday. The crowd pops big for his bronco buster on "Lonesome" Jay Bradley, but in the end, it is Bradley who walks out of the ring as the No. 1 contender for the Heavyweight Championship.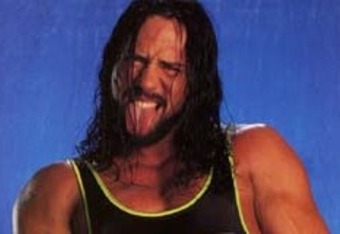 Lince Dorado and Samuray Del Sol, collectively "Rising Sun," have a rollicking tag-team match against John Skyler and Ashton Vuitton, who puts his Abercrombie looks to good use in a variation on the Gorgeous George template.
I roll my eyes at the thought of a modern wrestler following the Arab character template, but damn it if the Almighty Sheik, seconded by Rinaldo Piven, and Steven Walters don't have the match of the night in a well-paced and well-told contest. The quality of the action only makes the followup stronger, when Walters, frustrated by his Resistance Pro losing streak, turns his back on the fans and joins the Sheik.
Rhino is in rare form as the heel in the main event. He was always intense, but he's adding a disturbed quality to his performance tonight, giving his character some intriguing layers throughout the match.
Can't tell you why, but Harry Smith just comes off like a star. The kids in the crow's nest won't stop chanting his name. There's a Ricky Steamboat quality in his smile that says turning him heel would be a mistake.
Their encounter sets up a cage match between the two at the next Resistance Pro card on May 11th, but that, of course, is by design. Gabriel Baron tells me the growing audience is "responding to recent storylines and getting a feel for what we're all about.
"We are taking each show one at a time and, while we have plans that go through the end of the year, the city of Chicago is the home of R-Pro—not one venue in particular. We have a great rapport with Excalibur and will certainly continue to run events there for the foreseeable future."
It is not without irony the May 11th show, A Small Deadly Space, will be the first production not held in the intimate amphitheater setting of the Excalibur, but instead in the larger Teamster City Auditorium, which Baron calls "a more centralized location in the heart of the city. With 500 free parking spots, and right off of the highway and literally feet from a Blue Line stop, we feel that it will make R-Pro action even more accessible to fans—no matter how they get to the show!"
Billy Corgan is confident "business follows credibility." If Resistance Pro continues to treat their talent well outside the ring while allowing them to shine inside of it—business is about to pick up.