Final Four 2012: Kentucky Riot Casts a Dark Shadow on 2012 NCAA Tournament
April 1, 2012
The dumbest thing fans of the Kentucky Wildcats could do after beating rival Louisville en route to the 2012 NCAA basketball national championship game was riot—but that's exactly what they did.
What an embarrassment for a great basketball program and for the state of Kentucky as a whole.
Not only was it just an immature display of "loyalty" to Kentucky, but it was incredibly shortsighted. Sure, your No. 1-seeded Wildcats team beat the No. 4-seeded Cardinals in a game that they should have won, but there's still one more game to go now against a very talented Kansas team.
Ronald Martinez/Getty Images
Should we give Kentucky the national championship now or wait until after all of the couches in Lexington have smoldered?
Forget about the fact that for the first time in a long time, the Wildcats looked like a team that could be beaten—giving up 16 offensive rebounds and letting the Cardinals hang around and make runs that allowed them to get back into the game—and forget about the fact that they still have a whole game to play against No. 2-seeded Kansas in order to leave March Madness as champions.
Apparently, making the big game is enough to incite senseless actions like the ones reported by Linda Blackford, Jack Brammer, Josh Kegley and Mary Meehan of the Herald-Leader:
State Street, which had become the epicenter of couch burning in recent weeks, was quickly filled with thousands of people, smoke and flying beer bottles. Police in riot gear with fire extinguishers and batons dodged bottles from the growing crowd and tried to stop a raft of couch fires.

Police blocked people from an empty building, but could not stop at least five cars from being flipped over, set on fire or vandalized. Much of the violence was accompanied by people chanting a war cry of "C-A-T-S, Cats, Cats, Cats!"

Fire department officials said at least 39 fires occurred in the campus area, mostly on State Street, and mostly to couches and trash. The Fire Department also made 12 first-aid runs.

Unfortunately, as with most acts of public stupidity, the action of a few will represent the majority, so not only do Kentucky fans come out of this looking bad, but so does the 2012 NCAA tournament.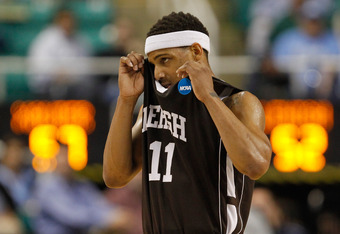 Streeter Lecka/Getty Images
It has been a great March Madness so far. We had our fair share of Cinderella moments—Duke getting bounced out by No. 15 seed Lehigh and North Carolina State making a Sweet 16 run to name a few—but in the end, the Final Four was made up of talented teams and great storylines.
We couldn't have asked for better college basketball excitement.
Yet in the end, all the good that took place in the 2012 March Madness tournament will be marred by these ridiculous riots.
It's not a good look, Wildcats fans, and you're associated whether you like it or not.
Kentucky very well may go on to win the national championship, and this whole thing will eventually blow over, but the riots in Lexington will cast a dark shadow over the accomplishment as well as the tournament as a whole.
We'll look back on the basketball, but there will always be that asterisk moment. "Hey, remember when Kentucky fans rioted because they beat Louisville in the Final Four?"
I'd hate to see what would have happened if the Wildcats had lost that game. I shudder to think what the response would be to a Wildcats loss in the national championship.
Perhaps it would be a deserving ending, but I don't think the streets of Lexington are ready for that.