Ohio State vs. Kansas: 5 Reasons Buckeyes Will Advance to Championship Game
March 31, 2012

Jim Rogash/Getty Images
Win and you advance to the 2012 NCAA Championship Game. Lose and you go home.
Ohio State and Kansas will be on center stage Saturday night for the right to advance. Here are five reasons why Ohio State will continue marching.
Jared Sullinger
I'm not sold on Jared Sullinger at the next level. However, I expect Sullinger to be more than ready to play the Jayhawks on Saturday.
Sullinger came back to win a national championship. He felt that last season was a major disappointment.
He has the ability to stretch the defense with his improving jump shot and we already know that he's a beast down low. Can he do it against bigger defenders? I think he can with his power.
Sullinger will be at his best Saturday.
Deshaun Thomas
How great has Deshaun Thomas been in the 2012 NCAA Tournament?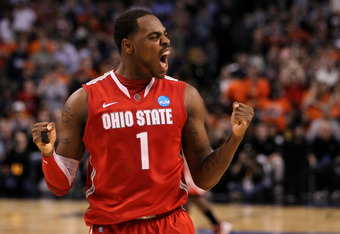 Michael Heiman/Getty Images
He's averaging 21.7 points per game, so far.
Thomas has been outstanding in his sophomore campaign. His consistency has been one of the greatest reasons that Ohio State is where they are today. Thomas is averaging 15 points per contest.
He'll continue to play well in big-time situations.
Kansas has overachieved this season
Ohio State was expected to make a deep run with Sullinger coming back, and Kansas wasn't expected to do much after losing many of its core players.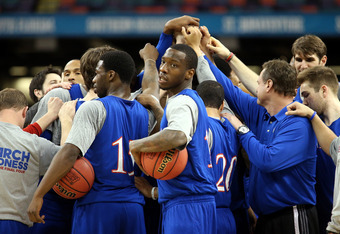 Ronald Martinez/Getty Images
Not that Kansas wouldn't be upset with a loss at this point, but for them this is already a successful season. Ohio State had greater expectations to start the year.
Expectations matter.
Aaron Craft
Aaron Craft is a pest. His defensive mentality translates down to his team—his work ethic, on-ball defending and will to win ranks with the best in the country.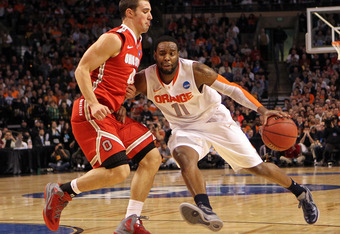 Jim Rogash/Getty Images
Craft has the ability to score the basketball when he chooses to be aggressive. He scored 17 points against Gonzaga when the Bulldogs were taking Ohio State to the limit.
There isn't a player on the floor Saturday that will do more for his team. He has more of an impact offensively and defensively than anybody left in the field.
He's the ultimate tone setter.
Defense
North Carolina struggled with its defense all season long. Kansas benefited greatly from that aspect; the Tar Heels allowed Kansas to score 80 points last Sunday.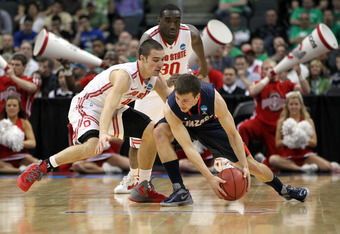 Gregory Shamus/Getty Images
Defense wins championships.
Ohio State will bring the second best defense in the Big Ten Conference and 17th overall in the country to the show on Saturday night. They hold teams to 59.7 points per game.
Kansas only averaged 62.6 points per game before their offensive outburst against North Carolina.
I think they come back to earth.