NFL Rumors: Why Philadelphia Eagles Would Be Smart to Deal Asante Samuel
March 30, 2012

Jim McIsaac/Getty Images
There have been rumors of the Philadelphia Eagles potentially trading cornerback Asante Samuel, and that would be a very smart move for the Eagles organization.
Samuel is a 31-year-old cornerback clearly on the decline of his career. In 2011, Samuel had 34 tackles and three interceptions. That is Samuel's lowest interception total since the 2005 season and second fewest tackles in his career.
In the past two years, Samuel has missed a total of seven games and has not played in all 16 games since the 2009 season.
Samuel's contract is also a big reason why the Eagles should trade him. This corner is set to make a base salary of $9.5 million in 2012, and that is simply too much.
There have been talks of Samuel willing to restructure, but that seems to only be in a trade situation. Even if Samuel did want to restructure for the Eagles, they do not need him. The Eagles have other great corners in Dominique Rodgers-Cromartie and Nnamdi Asomugha.
Rodgers-Cromartie is the youngest of the bunch at 25, and he has the potential to be one of the best cornerbacks in the league for years to come. Asomugha will be 31 when the 2012 NFL season starts, but he has shown no signs of slowing down.
In the 2011 season, the Eagles played Samuel and Asomugha on the outside most of the time, with Rodgers-Cromartie playing the nickel position.
Throughout the season, Rodgers-Cromartie struggled and was unable to meet expectations. However, that is expected when a player takes on a new role, and Rodgers-Cromartie is much better on the outside.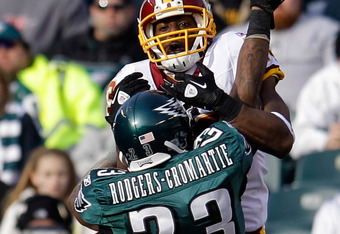 Rob Carr/Getty Images
The Eagles could potentially trade Samuel and receive a third- or fourth-round pick, then play Asomugha and Rodgers-Cromartie at the corner spots.
There is no doubt the Eagles could get rid of Samuel and be perfectly fine without him. In fact, they may be better off without the three-time All-Pro.
Philadelphia is a team looking to win a Super Bowl. It has all of the pieces in place and now it just has to meet its potential.
Most teams that are ready to make a run end up not doing so because of locker room or attitude issues. Samuel has been known as a bit of a diva before, and none of the Eagles' three corners like playing the slot. If the Eagles were to move Samuel out, it would clear up the locker room and adjust the attitudes of the other two corners.
Not only would the Eagles be OK without Samuel, but they would clear cap space and receive picks in return. That is a win-win for the Eagles.
Now it just comes down to what team Philadelphia should trade with.
There are a lot of teams Samuel could start for, but many will not want to take on his contract. That is where the restructuring comes into play. Samuel has said he would be willing to restructure his deal for a trade.
Since that has been said, the Tennessee Titans have expressed interest in the aging corner. The Titans recently lost their No. 1 corner, Cortland Finnegan, to the St. Louis Rams in free agency. Tennessee will not be able to replace Finnegan in the draft this year, but it could bring in a guy to take his spot via free agency or trade.
This trade makes perfect sense.
The Titans would more than likely be willing to give up a mid-round pick for Samuel if he were to restructure his deal and make it more cap-friendly. The Eagles would undoubtedly love to ship Samuel over to another team for a draft pick.
Now it just has to be done.
The Titans, and other teams, may be worried about how much longer Samuel will play and if he can pick his play up. Teams will also want the four-time Pro Bowler to stay healthy. Samuel has been off the field throughout his career due to injuries, but more so in the last two seasons.
Despite all of the reasons why a team may not trade for Samuel, he is still worth the risk.
The Eagles can take the risk of trading him away to another team because of the depth they have at the cornerback position.
A team like Tennessee can take a risk on dealing for Samuel because it needs a corner, and at one point Samuel was widely regarded as the best cornerback in the game.