MLB: Why the Washington Nationals Will Finish First in the NL East in 2012
March 29, 2012

The Washington Nationals finished at 80-81 in 2011, just one game away from finishing .500 for the first time in the team's short history.
The team scored just 624 runs, in large part because of injuries to Ryan Zimmerman and a down season by Jayson Werth.
As a team, the Nationals hit a putrid .242 with a .309 on-base percentage.
With a more capable offense, the Nationals may have won up to five or six more games. Werth had arguably the worst season of his career, hitting .232/.330/.389 with 20 home runs and 58 RBI.
If Werth can perform at a level worthy of his seven year, $126 million contract (30 home runs, 90-plus RBI), the offense will be in much better shape.
Add in a full season of a healthy Zimmerman, and the offense figures to be much improved. Expect Zimmerman to be motivated to live up to his new contract extension as well.
Reinforcements could come midseason in the form of a 19-year-old prospect by the name of Bryce Harper.
Ever heard of him?
Despite being assigned to Triple-A Syracuse, there's no doubt that Harper will be up in the majors at some point this season. He's currently being groomed as a center fielder, so he'll contribute to the overall depth in the outfield when he makes his debut.
It's hard to see Harper struggling when he gets the call, as he has the most potential of any hitting prospect in baseball history.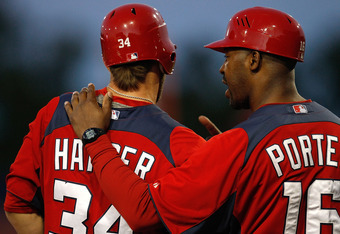 Sarah Glenn/Getty Images
Without even making any significant offensive acquisitions this offseason, the offense for the Nationals looks significantly better for 2012.
From a pitching standpoint, the Nationals were solid in 2011. The 3.58 team ERA and 1.30 team WHIP are very solid, as well as the 6.51 K/9 recorded as a staff.
General Manager Mike Rizzo decided to make improvements anyway, and all signs point to the rotation being even better in 2012.
The first acquisition came when Rizzo traded away top prospects Brad Peacock, A.J. Cole, Tommy Milone and Derek Norris for left-handed ace Gio Gonzalez.
Although it's already been announced that Stephen Strasburg will pitch on Opening Day, Gonzalez figures to be the ace of the staff.
In a very team-friendly move, Rizzo signed Edwin Jackson to a one-year contract. Jackson's inconsistencies are well-documented, but he is coming off arguably the best season of his major league career.
Brad Lidge was also signed in a relatively under the radar move. He will provide nice veteran experience at the back end of the Nationals' bullpen.
Fans have to remember that Strasburg will also be healthy for a full season (at least until he reaches his 160 innings limit), so he'll provide a nice boost over the course of the season.
Apart from the offense and the defense, the Nationals figure to finish higher up in the standings because of the other teams' situations.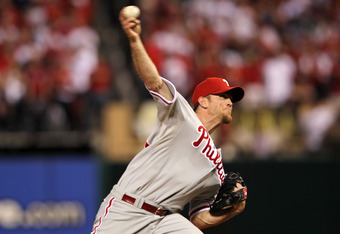 Jamie Squire/Getty Images
The Phillies are hampered by injuries, as Ryan Howard and Chase Utley both figure to miss a significant amount of time. The ageless Jim Thome figures to replace Howard and nobody's sure what we can expect from him in his first time playing first base since 2007.
Replacing Utley will be very difficult, as Freddy Galvis and Michael Martinez are both unproven commodities.
The Braves did not make any major acquisitions this offseason, but instead they decided to allow shortstop Alex Gonzalez to walk and to trade Derek Lowe to the Indians.
To replace Gonzalez, Atlanta has top prospect Tyler Pastornicky, but he profiles as nothing more than a defense-first type of player.
To make matters worse, Chipper Jones will be starting the season on the disabled list, so the team will need to figure out a way to replace his production for the first few weeks of the season.
Realistically, the Nationals could win upwards of 92 games in 2012. The offense should be much better than it was last season, and Rizzo made a conscious effort to improve an already strong pitching staff.
Add in the fact that the rest of the division (aside from the Marlins) figures to be worse than they were in 2011, the Nationals have a legitimate shot at finishing first place in the tough NL East.