Toronto Blue Jays: Eric Thames Deserves to Start in Left Field
March 28, 2012

Al Messerschmidt/Getty Images
No offense to Travis Snider, but in the end, Eric Thames deserves to start at left field for the Toronto Blue Jays this season.
When Thames was brought up in May of 2011, he performed.
In 95 games, he hit .262, with 12 home runs, and 37 RBI. In addition, he recorded 25 doubles, five triples, and two stolen bases.
Defensively, he committed just two errors in 150 games.
He's followed that up with a solid Spring Training, Though he's hit just one home run in 50 at-bats (over 18 games), he does have a .320 batting average. In addition, he's recorded six doubles.
Thames has done a good job for the Blue Jays, and despite having little experience, has made left field his spot.
Not this is not a knock to Travis Snider. As a matter of fact, Snider did well in Spring Training.
He showed more power in Spring Training than Thames. In 48 at-bats (over 17 games), he hit .271, with four home runs and 16 RBI.
I think the problem for Snider is that he has already made attempts in the past to earn a full-time spot in the outfield, but has been unable to capture it. In 2010, he had 14 home runs in 82 games, but was average, hitting just .255. In 2011, he tried again, but he only managed to hit .221 and just three homers in 42 games.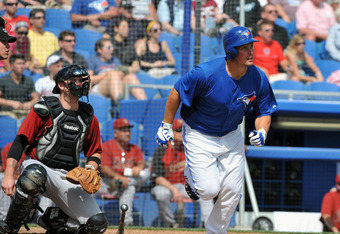 Al Messerschmidt/Getty Images
In addition, the team already has plenty of power. They have Jose Bautista, Brett Lawrie, Adam Lind, and J.P. Arencibia. Colby Rasmus, Kelly Johnson, and Yunel Escobar also have some pop in their bats.
Despite all that power, the team was just 20th in the league in batting average, and 18th in on-base percentage.
The team doesn't necessarily need more power at the moment—they need guys that can make contact and get on-base more often, so guys like Bautista, Lawrie and others can drive in the runs. Thames would do a better job of doing so than Travis Snider.
I'm sure this won't be the last we see of Snider during the course of the regular season. If Thames, Rasmus, or Bautista go down with injury, or if Lawrie suffers, and the team absolutely needs to put Bautista at third base, Snider will be one of the first guys the organization will think of bringing up.
For now, Snider just needs to continue working and developing his overall skills in the minor leagues. He'll have his day soon.