NFL Draft 2012: Brandon Boykin and DBs Who Are Mid-Round Steals
March 28, 2012

Kevin C. Cox/Getty Images
The secondary in the 2012 NFL Draft is the deepest unit this year and rightfully so. The pass-heavy NFL needs that counterbalance of defensive backs to help level the playing field—literally.
The bad news, though, is that the sheer quantity of DBs, CBs and safeties in this class increases the odds for bust-prospects. Therefore, here's a look at the defensive backs who are mid-round steals come late April.
Brandon Boykin, Georgia
A versatile player, Brandon Boykin was quite the consistent performer for Georgia during his tenure. A solid three-year contributor on defense, Boykin recorded nine picks, defended a total of 27 passes, made 153 tackles and, in 2011, forced two fumbles.
He's a lightning quick edge player who possesses excellent awareness and doesn't allow a lot of yards after the catch. Provided that Boykin can build some muscle while maintaining his speed and agility, he'll develop into a complete corner.
Boykin also served on special teams, returning 110 kickoffs for 2,663 yards, scoring four times. The man also added punt returning to his repertoire in 2011 with 180 yards on 14 attempts with one touchdown.
Boykin even played some offense by accounting for 174 yards and three touchdowns last season.
George Iloka, Boise State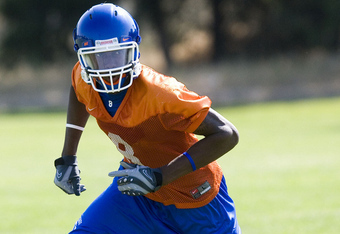 A 6'4'', 225-pound safety, Boise State's George Iloka has great body control, keeps a low center of gravity and maintains speed when changing directions.
Then again, as a roll down safety who also played back deep, Iloka had to provide the Broncos with reliable coverage against any type of receiver all over the field. More of a deep player early in his career, Iloka recorded five picks between 2008 and 2009 with 16 defended passes and 100 tackles.
During 2010 and 2011, Iloka increased his dynamics and helped out the front seven. There, he still accounted for eight defended passes and two picks but also added two forced fumbles and 121 tackles.
Possessing the skill set to take on slot receivers and tight ends when rolled down as well as helping with run support—Iloka has the innate ability to quickly drop back and read developing routes to jump passes.
Casey Hayward, Vanderbilt
Easily one of the more unknown cover corners from the SEC, mainly because of other conference defenders like Morris Claiborne, Dre Kirkpatrick, Stephon Gilmore and Brandon Boykin, Casey Hayward was just as consistent as any in the SEC.
Arguably the best and most complete Vanderbilt defensive player ever, in his final three years, Hayward recorded 15 picks (13 between 2010 and 2011), 43 defended passes and 190 tackles.
Hayward comes in a bit undersized but has the balance and control to re-route receivers with his feet, which is more impressive than playing press coverage. He's also an instinctive player that can read the run and use quick hands to prevent blocking.
If he gets stronger and faster at changing directions, Hayward has No. 1 corner potential. Until then, he's more of a dime back with No. 2 corner potential.
Aaron Henry, Wisconsin
A good size safety who's not as big as George Iloka, Wisconsin's Aaron Henry had impressive consistency with 181 tackles, 4.5 sacks, seven picks and 24 defended passes.
Even more impressive; Henry accumulated 163 interception return yards and had three defensive touchdowns as well. For his size, Henry has good strength and also better-than-given-credit-for speed.
Henry will likely end up as a late fourth or early fifth-round selection because he played behind a stout front seven. Henry is a reliable tackler and has the quickness to blitz off the edge as a dime back.
Provided that he continues to build strength and become a more physical defender, Henry can make an immediate impact in 2012.
2012 First-Round NFL Mock Draft
1. Indianapolis Colts: Andrew Luck, QB (Stanford)
2. Washington Redskins: (From STL): Robert Griffin III, QB (Baylor)
3. Minnesota Vikings: Matt Kalil, OT (USC)
4. Cleveland Browns: Justin Blackmon, WR (Oklahoma State)
5. Tampa Bay Buccaneers: Trent Richardson, RB (Alabama)
6. St. Louis Rams (From WAS): Morris Claiborne, CB (LSU)
7. Jacksonville Jaguars: Riley Reiff, OT (Iowa)
8. Miami Dolphins: David DeCastro, OG (Stanford)
9. Carolina Panthers: Melvin Ingram, LB/DE (South Carolina)
10. Buffalo Bills: Dre Kirkpatrick, CB (Alabama)
11. Kansas City Chiefs: Michael Brockers, DT (LSU)
12. Seattle Seahawks: Fletcher Cox, DT (Mississippi State)
13. Arizona Cardinals: Jonathan Martin, OT (Stanford)
14. Dallas Cowboys: Quinton Coples, DE (North Carolina)
15. Philadelphia Eagles: Luke Kuechly, LB (Boston College)
16. New York Jets: Michael Floyd, WR (Notre Dame)
17. Cincinnati Bengals (From OAK): Janoris Jenkins, CB (Northern Alabama)
18. San Diego Chargers: Dontari Poe, DT (Memphis)
19. Chicago Bears: Stephon Gilmore, CB (South Carolina)
20. Tennessee Titans: Cordy Glenn, OG (Georgia)
21. Cincinnati Bengals: Devon Still, DT (Penn State)
22. Cleveland Browns (From ATL): Courtney Upshaw, LB (Alabama)
23. Detroit Lions: Zach Brown, LB (North Carolina)
24. Pittsburgh Steelers: Dont'a Hightower, LB (Alabama)
25. Denver Broncos: Jerel Worthy, DT (Michigan State)
26. Houston Texans: Kendall Wright, WR (Baylor)
27. New England Patriots (From NO): Whitney Mercilus, DE (Illinois)
28. Green Bay Packers: Nick Perry, DE (USC)
29. Baltimore Ravens: Kevin Zeitler, OG (Wisconsin)
30. San Francisco 49ers: Stephen Hill, WR (Georgia Tech)
31. New England Patriots: Mark Barron, SS (Alabama)
32. New York Giants: Doug Martin, RB (Boise State)
John Rozum on Twitter.