San Francisco 49ers: Brandon Jacobs Signing Spells the End for Anthony Dixon
March 28, 2012

Rich Schultz/Getty Images
The San Francisco 49ers have signed former New York Giants running back Brandon Jacobs, signaling the end of the road for Anthony "Boobie" Dixon.
Per ESPN's Adam Schefter:
San Francisco 49ers reached agreement with former Giants running back Brandon Jacobs.

— Adam Schefter (@AdamSchefter) March 28, 2012
Before free agency started, I didn't expect to see Dixon on the 49ers opening-day roster. I had hoped the 49ers could find a more capable replacement. Thankfully, they have.
Trent Baalke had hoped Dixon would become a red-zone/short-yardage specialist for the 49ers, a hope that never materialized into reality. 
Still, some fans are not exactly jumping up and down over joy about this recent signing.
Matt Maiocco of CSN Bay Area tackles that head on:
RT @Mjw2884 Brandon Jacobs??? This makes no sense to me > 49ers don't have confidence in Dixon and consider Hunter as change-of-pace back.
— Matt Maiocco (@MaioccoCSN) March 28, 2012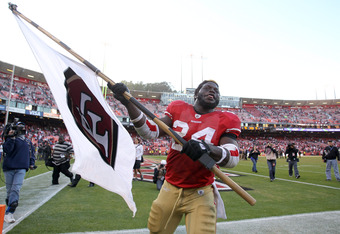 Ezra Shaw/Getty Images
Maiocco has about as much of an inside scoop into the mind of Trent Baalke as anyone in the business. He says the team has no confidence in Dixon, and I must agree with that assessment.
The 49ers haven't made a statement about Dixon as of yet, but the next logical step is for Dixon to be released.
Many of you may be wondering how much better Jacobs will actually be for the 49ers than Dixon was in years past. We have all seen and read how frustrated the Giants' coaches have been with Jacobs in the past for trying to run around people instead of through them, much like what we saw Dixon do the last couple of years.
There is a clear difference between the two, however.
Jacobs is a touchdown-maker.
Dixon is not.
Just using the last two years as an example, Jacobs has scored 16 rushing touchdowns to Dixon's four.
In his career, Jacobs has run for 56 rushing touchdowns.
That's 13 more touchdowns than Frank Gore has for his career.
After ending the season as one of the worst red-zone scoring teams in the NFL, Baalke and Jim Harbaugh have been determined to give the team the best chance to score both in the passing game—where they brought in Randy Moss and Mario Manningham—and in the running game.
I expect to see a lot of Jacobs down around the goal line and in short-distance downs, and I also expect to see a much improved red-zone scoring percentage in 2012.
"Boobie" will be missed. He was a fan favorite due to his boisterous personality and fun-loving temperament. 
I am more concerned with wins and losses, though, and this move clearly shows that Baalke and Harbaugh are of the same mind. 
One quick note: Don't expect the 49ers to stand pat in the draft at the running back position. If someone they like is still on the board in the mid-to-late rounds, I have no doubt they'll pull the trigger.