2012 NFL Draft: Dallas Cowboys Owner Jerry Jones Hints at Trade Down
March 28, 2012
Norm Hall/Getty Images
The NFL owners' meetings are under way in Palm Beach, Fla., which usually means lots of access to the owners and coaches for the football media and in turn more clues for us to decipher what will happen in the draft next month.
Dallas Cowboys owner Jerry Jones is more "hands-on" than any owner in the league when it comes to personnel decisions, so we should give more weight to his words than any other owner in the league. Carlos Mendez of the Fort Worth Star-Telegram reports that Jones sees the Cowboys' success in free agency at offensive guard freeing them up to trade down:
[Signing guards Mackenzy Bernadeau and Nate Livings] left us totally flexible there. ... You might want to move down and pick up a player that's going to be there rather than being at your 14th. You might not have been able to do that had you not had the success that we had in free agency.
This comes on the heels of SI.com's Tony Pauline passing this along on Twitter yesterday:
Sources tell me Dallas Cowboy OC Bill Callahan favors Peter Konz/OL/Wisconsin.
When I asked Pauline if the Cowboys would target Konz at the 14th pick, he said, "Konz in a trade down."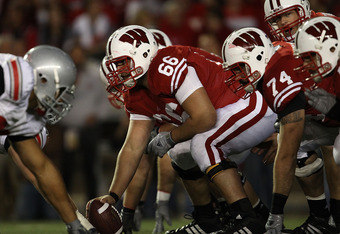 Jonathan Daniel/Getty Images
This is believable because the need for a center in Dallas is obvious, and Konz is clearly the best center prospect in the draft. Tennessee is probably the next team on the board that would target Konz, and it has the 20th pick. That leaves the Cowboys only a little wiggle room, but dropping from the 10th to 16th pick netted the Washington Redskins a second-round pick last year, so even a small move could be profitable for Dallas.
Who would be willing to make that move and why?
Cincinnati (17th): Stanford OG David DeCastro
The Bengals lost OG Nate Livings to the Cowboys. They replaced him with Travelle Wharton, but the two players competing at the other guard position, Otis Hudson and Clint Boling, are largely unproven.
The Philadelphia Eagles (15th) and New York Jets (16th) might not be top candidates to take a guard (although the Jets could potentially play DeCastro at right tackle), but DeCastro's absolute value dictates that he shouldn't last much longer than 14th if he's still there, so another team could trade with the Jets or Eagles to snipe him in front of the Bengals.
The Bengals have an extra fifth-round pick that they acquired in the Chad Ochocinco deal, which could make this worth it for the Cowboys.
San Diego (18th): Stanford OT Jonathan Martin, Iowa OT Riley Reiff, Illinois DE/OLB Whitney Mercilus
The Chargers need help at offensive tackle, and they also need a pass-rusher. The Jets at No. 16 could use both, and the Bengals at No. 17 are a threat to take the top pass-rusher on the board. If the Chargers zero in one of these targets and they are still available at No. 14, GM A.J. Smith could pull the trigger. Smith traded away a lot of capital to make an even bigger move for Ryan Mathews two years ago.
Chicago (19th): Illinois DE/OLB Whitney Mercilus, Notre Dame WR Michael Floyd
The Bears could be in the market for a big, fast wide receiver like Floyd to play opposite Brandon Marshall, and a pass-rushing end like Mercilus to play opposite Julius Peppers would also be appealing. The Jets are a threat for Floyd, and the Bengals and Chargers are a threat for Mercilus. New GM Phil Emery has already shown he is willing to deal draft picks in the Marshall trade.
Of course, most of the teams in the teens have multiple options that could make them feel comfortable staying at their original pick. That could force the Cowboys to either take Konz higher than they want to or take a defensive line prospect like LSU DT Michael Brockers or Mississippi State DT Fletcher Cox and hope to trade back up into the late first for a falling Konz.
Either way, file this away and remember it when the Cowboys are on the clock in the first round.