Breaking Down How Robert Griffin III Fits in the Redskins Offense
March 30, 2012

Ronald Martinez/Getty Images
Like puzzles, football teams have many pieces that need to be assembled, and not each piece is created equal. Some are of smaller size, while others are medium sized. Then there's the large piece that is the keystone of a the puzzle, which in football terms is the quarterback.
The quarterback is a key piece to the puzzle in the NFL, giving the team a chance to win in every situation, but it also has to fit. Not every quarterback piece fits in every puzzle, because not all puzzles are the same—such as in the West Coast Offense, which requires less physical talent than the Air Coryell would.   
Luckily for Washington Redskins fans, No. 2 pick to-be Robert Griffin III is a talent that fits in every system, especially in Mike Shanahan's West Coast Offense.
As NFL Network's Joe Theismann and many others, including myself, have explained, Shanahan's offense is based off of the zone running game. This is different than the original West Coast Offense, which was more balanced and didn't utilize such run concepts, but it's still effective. Washington's running game consists of base NFL runs such as draw and counter but also most notably inside and outside zone. 
These two concepts are based off of synchronized zone blocking to the play-side (direction of the run), which feature the running back flowing and reading his given keys. In inside zone, the running back is to read the outside hip of the guard and make a cut to the backside alley that is created by undisciplined defenders, while on the outside zone concept, the runner often targets the outside hip of the offensive tackle and either continues to run on the front-side of the play or makes a cutback.
When these two run concepts are flowing and have success, it becomes a very dangerous part of the passing game because of play action, or as many call it, "boot action."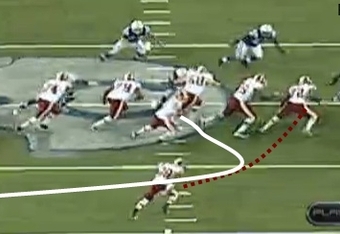 Shanahan's boot action has had a lot of success over the years, and what they have done is thrown deep passes out of them. The quarterback, which in Washington has-been Rex Grossman, rolls out to his assigned side and usually has three or four reads to go through in an effort to complete the pass to a likely crossing receiver.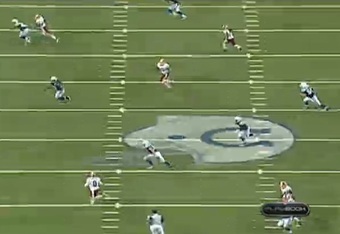 It's not much different in Washington, as can be seen above, and although it's had success, it will have a new dynamic now with the presence of Robert Griffin III. 
Griffin III, or "RG3" as he's called, is one of the best, if not the best, dual-threat quarterbacks coming out of college in this year's draft. He has the ability to pick up chunks of yardage on the ground while also delivering an eye-popping, backbone breaking deep pass for a touchdown. His running ability forces the defense to essentially cover an extra gap in run defense, forcing them to drop an extra defender in the box, consequently having less deep where Griffin throws very well. 
While I believe he is more of a straight-line runner than others in years past, such as the Panthers Cam Newton, he is still a very effective runner and has the speed to do damage in the open field, as witnessed against the Washington Huskies in the Alamo Bowl this season.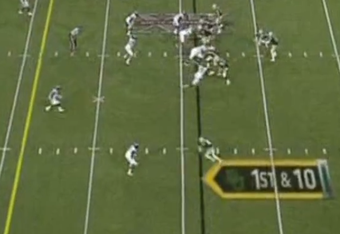 Because of his mobility and ability to throw well on the run, the Bears coaching staff, led by head coach Art Briles, utilized play action passes that caused conflict for the defense. An example of this was against TCU early in the college football season, when Griffin put the ball in the belly of his teammate and plucked it back out.
Once he did this, he rolled to his right and found his target running a curl route. When moving and throwing, he does a good job of keeping his eyes up and going through his reads, opposed to immediately taking off and running with the ball.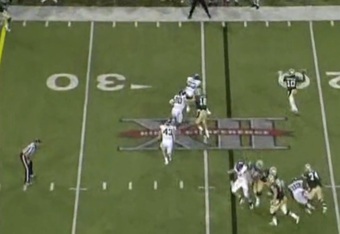 Some have tried to state that Griffin is more of a runner than a passer, but this is not true. He has exceptional throwing ability and utilizes it. He is an ascending player whose week-to-week improvement is visible. He is a great fit for the Redskins and I expect them to fully utilize his athleticism and arm talent to cause problems for defenses both on the ground and through the air.