Shell Houston Open: Ernie Els with One Last Chance to Qualify for Augusta
March 28, 2012

David Cannon/Getty Images
In his 18 appearances at the Masters, it seems quite odd that Ernie Els has not earned the coveted lifetime exemption.
Els certainly has the talent to win at Augusta. The man has over 60 worldwide victories and three major titles to his name.
In addition, there's no reason to believe the course fits his game poorly. Els has five top-six finishes at the tournament including two runner-ups, so he's clearly comfortable with the Augusta set up.
But no matter how peculiar Els' lack of winning ways at Augusta seems, it doesn't change a simple fact: heading into the Shell Houston Open this week (the last event before Augusta), Els is still without a Masters spot.
The South African, who hasn't missed a Masters since 1993, has spent the first part of the season desperately trying to qualify for his 19th consecutive trip to Augusta.
With nothing given to him as the 68th ranked player in the world at the beginning of the year, Els was faced with a tough task. Improve his world ranking 18 spots in three months or win a PGA Tour event before the Masters, otherwise he wouldn't be traveling down Magnolia Lane in early April.
Els nearly accomplished both feats.
At the Transitions Championship two weeks ago, Els stood over a four-foot birdie putt on the 70th green with the chance to take a two-shot lead and seize control of the tournament.
Unfortunately this wasn't the sure-handed Els of old. The new Els, the one who ranks 127th on the PGA Tour on putts inside five feet, isn't quite as nifty with the flat stick and the resulting short miss proved as much.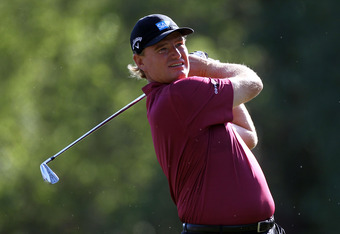 Sam Greenwood/Getty Images
Knowing the golden opportunity he missed, a disappointed Els walked to the 17th hole and followed his shocking miss with a heart-wrenching bogey to fall back into a tie for the lead.
Even on 18, Els still had a chance.
Once more just four feet stood between Els and the hole. It was simple, a make likely meant a playoff, a miss meant no chance. The easy par putt shockingly pulled left of the hole and put Els in a state of agony.
Els' chances at victory were gone.
A week later, at the Arnold Palmer Invitational, Els was given a second chance. Three solid rounds left Els in a tie for third and in prime position to move into the top 50 in the world and gain a Masters spot.
The putter reared its ugly head again, though. Needing to finish in a tie for second to move into the top 50, Els missed two putts inside three putt en route to a final-round 75 and a T4 finish.
All of this disappointment has lead up to the Shell Houston Open, a tournament that serves as a last chance for Els to earn his way to Augusta.
Els will need nothing short of a win this week at Redstone to punch his ticket to the Masters, an unlikely task considering the difficulty of winning on tour and the fact that Els has never come close to winning in his previous appearances at the Shell Houston Open.
With his poor play in recent years and his inability to capitalize on previous opportunities, Els is left just this one sliver of hope to qualify for the Masters.
Certainly there is a possibility that if Els fails to win this week, the men at Augusta will throw him a bone by offering him a special exemption into the tournament.
But, a Masters invitation seems rather unlikely at this point, tournament organizers have given no indication that they are willing to throw Els a lifeline and the invitations have historically been used on players from Asia.
So Els is likely left with an uncomfortable ultimatum this week: win or no trip to Augusta. Can the Els of old put four good rounds together at Redstone to do the improbable and qualify?
He hasn't shown that ability this season, but if Els wants to go to Georgia next week he will have to play the most superb golf he has in years.
Hopefully Els can pull it together, because Augusta without the Big Easy just doesn't have the same ring.