Is LeBron James' Tough Guy Act Costing the Heat Wins?
March 27, 2012

Drew Hallowell/Getty Images
Since LeBron James' collision with Grant Hill one week ago that left James with head and elbow injuries, the Miami Heat have a 2-2 record.
The Heat have beat the Suns and Pistons, but have lost back-to-back contests against tougher competition in the Thunder and Pacers.
Over those four games, James hasn't been his dominant self that we've seen from him this season.
A model of unbelievable efficiency this year, James hasn't shot better than 44.4 percent in any of the games since he was injured, and his overall numbers have slipped considerably from his season averages.
James is shooting just 31-of-72 (43 percent) over that span, a stark drop-off from his season mark of 53.4 percent.
He's also managing just 19.5 points per game over that span and has scored just 78 total points. Seventy-eight points on 72 shot attempts is not the efficient LeBron we've come to know and embrace this season.
Most troubling for James has been the rate at which he's turning the ball over. Although he is averaging 3.5 this season, that number is up a full turnover to 4.5 over the last four games.
James said after the game against Phoenix that he was "too tough" to suffer a concussion (via Chris Tomasson of Fox Sports), and although the majority of the focus has been on that, it is actually LeBron's elbow that could be the root of the issue.
He injured the same elbow he had trouble with back in the 2010 postseason while he was still with the Cleveland Cavaliers, and James still regularly wears padded protection over the area currently.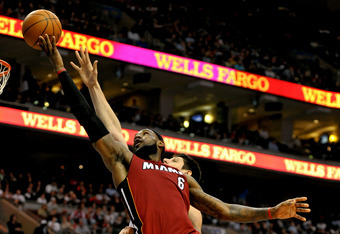 Drew Hallowell/Getty Images
Remember when James initially hurt his elbow? He was really struggling. His shot was off, he couldn't shoot free throws and the impact it was having on his game was obvious.
He's not shooting left-handed this time around, but it's clear that something isn't quite right.
James is taking more shots than he usually does in order to score a fewer amount of points. He's very clearly struggled to be the force he's become this season since the initial injuries, and there may be more going on than the MVP favorite is letting on.
Is his play causing the Heat to lose games? It's hard to say definitively.
James has missed just one game this season—a 116-109 win against the Atlanta Hawks where Chris Bosh and Mario Chalmers led the Heat to a triple-overtime victory. Miami has more than enough talent on the roster should James need some time off, and his recent play raises a lot of questions about just how much he's hurting.
He's struggled before in his career and he'll certainly struggle again—great players are never great every single night they're on the floor. However, if this continues to be a pattern and James can't be the player Miami needs him to be at this time, it's best to sit him on the sidelines and ensure he's right for the remainder of the year.
It's far more important for James to be firing on all cylinders in the playoffs than it is for him to fight through injuries in the regular season.