WWE WrestleMania 28: How Zack Ryder Can Lose and Still Leave as a Winner
March 27, 2012

With WrestleMania 28 just six days away, two of the most interesting non-wrestling angles heading into the event revolve around the dysfunctional relationship between Daniel Bryan and AJ on SmackDown as well as Zack Ryder lusting after Eve on Raw.
This is pure speculation on my part, but there's certainly potential for these two angles to coalesce at the event itself. WWE has set it up perfectly, whether they meant to or not. Follow me on this one:
First of all, let's face it...Eve is almost assuredly going to lose. Look at the history of celebrities at WrestleMania. They don't show up to look bad (sorry Pete Rose). Eve and Beth Phoenix are toast, regardless of how little sense it makes.
If her recent schemes and manipulations are any indication, when Zack Ryder, also probably a loser as a member of Team Teddy, attempts to console her after their matches, she will lash out as usual making Ryder look pathetic as usual.
It's time for Zack Ryder to sack up and be done with her. This angle is killing the momentum he worked so hard to create out of thin air. By taking a stand and forgetting about Eve, maybe Ryder can save himself from his downward spiral into perpetual mediocrity. That's step one.
Next, Daniel Bryan, as far as I'm concerned, is going to lose the World Heavyweight title to Sheamus. You can argue against that all you want, and that's fine. I personally believe that Bryan will lose.
As we saw on Raw, AJ is not above involving herself in Bryan's matches, putting herself between him and a devastating Brogue Kick, distracting Sheamus long enough to cost him the match.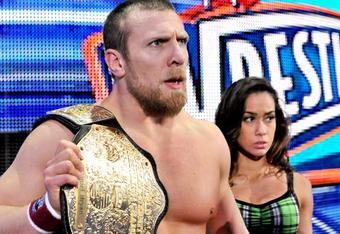 I've written in the past about how AJ can actively affect the outcome of this match. After the last episode of Raw, she has now set herself up to potentially have an inadvertent impact as well.
Let's say she once again tries to save Bryan from a boot to the face at WrestleMania only for her scheme to backfire and accidentally cost him the match. Bryan, incensed by the fact that she spoiled his victory and lost the title that he looked like he was about to lose anyway, goes ballistic on AJ.
He berates her, humiliates her, plays the abusive boyfriend to perfection. Maybe he actually becomes so enraged that he even raises a hand to her. He then unceremoniously dumps her in front of the raucous Miami crowd, leaving her devastated and dejected.
All at once, we have a situation where Bryan loses the belt, keeps a gripe about the legitimacy of the finish in his back pocket as grounds for a potential rematch (rather than simply invoking his standard rematch clause), earns massive heat for his mistreatment of AJ and solidifies his position as one of the premiere heels on SmackDown. It makes sense for a number of different reasons.
As AJ wanders backstage, devastated and embarrassed, she runs into the newly confident Zack Ryder, who consoles her, offers her a sympathetic ear and does basically everything that failed to woo (woo woo) Eve, possibly marking the beginning of an intriguing relationship with the much more down-to-earth Diva.
This is just one of any number of scenarios that could play out at WrestleMania—or it could not play out. For all I know, Bryan wins, Ryder wins, Eve wins and nothing like this even comes close to happening. This is just the way that makes the most sense to me.
Debate, as always, in the comments.