Tampa Bay Buccaneers: Three Players Who Underperformed in 2011
March 27, 2012

Grant Halverson/Getty Images
Don't tell me that you didn't see this coming. 
No, not the 4-12 season; the list of the under performers who contributed to those 12 losses.
In a perfect world, the entire team, including coaches and assistants, would be listed here. 
Too bad the world ain't perfect.
Instead of naming 50+ individuals, this article focuses on those whom the Tampa Bay Buccaneers depended on to "get them 'W's" and how they failed. 
1. QB Josh Freeman
Sorry to state the obvious, baby. 
Josh Freeman had a fantastic 2010, and followed it with a dismal 2011. His yards per attempt went down from 7.28 to 6.52, he threw for nine less touchdowns and skyrocketed all the way to 22 interceptions. In 2010, only six times did an opponent catch one of Freeman's passes. 
He's young, but that is no excuse for regression. Mark Sanchez had a better passer rating, despite his glaring incompetence. Seriously, we're talking about a guy who'd still be throwing interceptions even if the opposing defense lay down in the turf to make snow angels.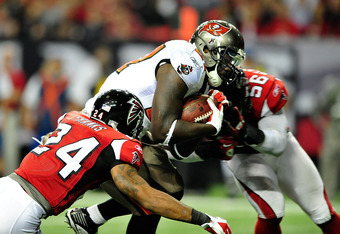 Grant Halverson/Getty Images
After his sophomore season, it became apparent that Josh Freeman has a very high potential as a quarterback. 
2. RB LeGarrette Blount
Disclaimer: I love LeGarrette Blount's talents as a running back and his unique style.
But that won't stop me from criticizing his efforts in 2011. Save for a few bulldozing rushes, Blount did not perform at a level expected of a man who picked up 1,000 yards on the ground just a year ago. He averaged 4.2 yards per carry, a decent number, yet it is well off from 2010's masterful 5.0.
Now, we can blame some of this on the offensive line. Even the best running backs need a little help from their friends.
With Carl Nicks joining the Bucs and Jeremy Zuttah moving to center, Blount should be set for 2012.
3. WR Mike Williams
Comparing 2011 to 2010: Same number of receptions. Nearly 200 less yards.
Many expected Mike Williams to officially make the jump from borderline No.1 receiver to good No.1 receiver.
That didn't really happen.
Whether Josh Freeman or the receiver stable is to blame, the pass efficiency turned rotten all the same. Some of this may be attributed to how Tampa Bay's offense faced so much pressure from trailing so often. It may also be attributed to poor coaching by the now-fired Raheem Morris.
Now the Bucs have a chance to improve. They have new head coach Greg Schiano, an upgraded O-line, a veteran No.1 receiver in Vincent Jackson, and the fifth overall selection in the draft.
Things are looking up.