Kenny Britt's Comeback Will Determine Titans' Fate in 2012
March 26, 2012

Grant Halverson/Getty Images
Kenny Britt's devastating knee injury three games into the 2011 season served to limit the Tennessee Titans offense. Without his deep-play ability, teams stacked the box and shut down the run game. As a result, Tennessee featured the least efficient run offense in football in 2011.
If it wasn't for the knee injury to Britt, we may well be talking about him as one of the best receivers in football. His numbers the last three years have been extraordinary, despite often playing with mediocre quarterback talent.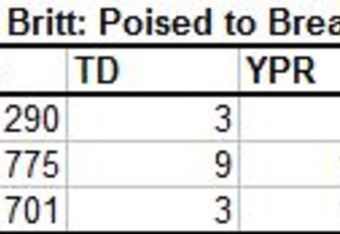 The Titans need Britt to come back healthy, but recovery from an MCL and ACL tear can be tricky. While, he's still not cutting, he is running and does expect to be back for training camp, or possibly even mini-camp.
He's entering his fourth year, which means he's nearly ready for his big payday. A strong season could set his family up for life, but if he's slow to bounce back, his window for mega-money could close.
Britt is among the best deep-ball wideouts in football. Since 2009, he's fifth in the NFL in yards per catch among wideouts with at least 100 receptions. The Titans desperately need his field-stretching ability as their next most potent weapon deep was tight end Jared Cook.
Without Britt for most of the season, the Titans ranked a pedestrian 14th in net yards per attempt. Adding Britt back into the lineup would take an average passing game and elevate it to a potentially threatening one.
The Titans missed out on Peyton Manning, but he might not have been the best fit for Britt's talents anyway. Jake Locker looked good on deep passes in limited action, and if he and Britt can find a rhythm, the future of the Titans offense could be vertical for the first time since the franchise came to Nashville.