2012 NFL Free Agents: New Orleans Saints Land MLB Curtis Lofton
March 25, 2012

Kevin C. Cox/Getty Images
Days after watching the NFL come down hard on their upper management and coaching staff, the New Orleans Saints have signed a safeguard at middle linebacker in case the league drops the hammer on current players, too.
According to ESPN's Adam Schefter, the Saints signed former Atlanta Falcons middle linebacker Curtis Lofton to a five-year deal Saturday, signaling the team's obvious anxiety about the potential multi-game suspension that Jonathan Vilma faces next season.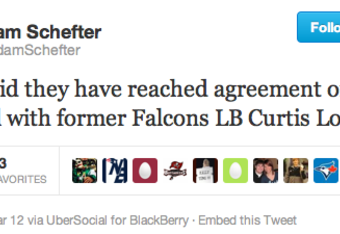 Financial terms of the contract were not immediately available.
A second-round pick in 2008, Lofton has started inside for the Falcons since his rookie season. At 6'0", 241 lbs., Lofton has been a Falcons starter for 63 out of a possible 64 games he's played in his four-year NFL career.
Only once—during his rookie season in '08—has Lofton failed to register 100 tackles in a season, and he topped off at a career-high 147 in 2011. He also has four career sacks, seven forced fumbles and three interceptions.
While the Saints do not plan on releasing Vilma, the soon-to-be 30-year-old is likely to face a long suspension from the league for his role in the bounty program in New Orleans over the last three seasons.
Last week, the NFL suspended Saints head coach Sean Payton for the season while also suspending general manager Mickey Loomis and assistant coach Joe Vitt for eight and six games, respectively.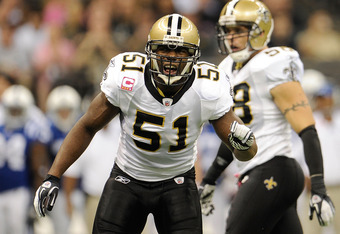 Stacy Revere/Getty Images
Even if Vilma avoids a suspension, which currently seems unlikely, the Saints liked Lofton's versatility and ability to play all three linebacker spots.
"Curtis is a versatile, hard-working player that has displayed a knack for being around the football, and more importantly, making plays on the ball," Loomis said, via Mike Triplett of the Times-Picayune. "He has the ability to play all three linebacker positions and we feel that he's just entering the prime of his career. We think he can come to New Orleans and fit in well and provide us with a significant contribution to our defense."
A stout run defender, Lofton was arguably the top defensive player left on the market after the Detroit Lions re-signed middle linebacker Stephen Tulloch. We do not yet know if Lofton's deal beats the five-year, $25.5 million deal Tulloch signed last week, but you'd have to assume the 25-year-old received similar compensation, if not more, from New Orleans.
Considering the Saints' current cap situation, which was somewhere under $2 million below the cap before this deal, the acquisition of Lofton likely means New Orleans will need to cut a player or two to stay under the cap.