Matt Kenseth: Why Is Daytona 500 Champ Still Looking for a Sponsor?
March 29, 2012

Jared C. Tilton/Getty Images
It is a conundrum as to how some drivers with lesser credentials have a full dance card of sponsors, while Matt Kenseth, NASCAR's 2003 Cup champion, has been without a primary sponsor for a good chunk of the 2012 season.
There was a vortex of sponsorship expirations at the end of the 2011 season at Roush Fenway Racing. Crown Royal, the primary sponsor of Kenseth's No. 17, jumped ship after two years.
Prior to Crown Royal, DeWalt had been the primary sponsor for 10 years. Now a group of corporate sponsors have been cobbled together with Best Buy as the primary sponsor for nine races.
Valvoline, Zest and Ford Eco Boost picked up a few other races, but the search for a primary sponsor for the remaining 15 races continues.
At RFR, a fourth team for the No. 6 was dropped for lack of sponsorship. Greg Biffle re-signed 3M and Carl Edwards has a variety of companies covering his sponsorship for 2012.
Most sponsorship agreements are made prior to the start of any given season because corporations need to have their financial plans in order. It is hard to pick up major sponsors once the season is underway.
Next, we look at the economy and the struggle to regain strength. Just as we start to see improvements, spiking fuel prices feed through every part of the economy.
Corporations are opening their wallets a bit, so it would only seem logical they would place any NASCAR sponsorship funds with a driver who is a champion, has 22 Cup wins and 211 top 10s.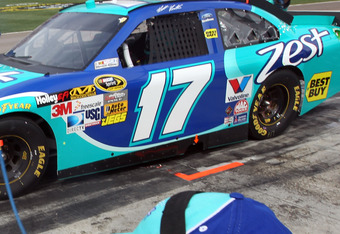 Jeff Bottari/Getty Images
Kenseth is a solid driver, who finishes consistently for the most part. He takes care of his equipment, is trusted by other drivers and finished fourth in the 2011 point standings.
Currently ranked sixth in the point standings, Kenseth won this year's Daytona 500 and also won the "Great American Race" in 2009.
With Kenseth, 40, what you see is what you get. He is not a flashy personality and comes across as somewhat bland.
Those who know the driver of the No. 17 see a very funny guy. Fans who follow him on Twitter may have witnessed that humor. He may be the most humorous driver in the NASCAR garage.
The Wisconsin native is your average-looking guy who speaks well of his sponsors, but doesn't have the charisma of some other drivers who are more highly valued as commercial representatives.
During a fan event at Daytona this past January, Kenseth told a story about going to Best Buy for considerable purchases around Christmas.
He presented his credit card and was asked for identification. For the mellow Kenseth, he was hardly offended by the incident.
Regardless of whether the clerk wasn't a NASCAR fan or didn't recognize Kenseth, it was actually a positive for the driver sponsored by Best Buy. He enjoys the lack of attention in his daily life.
Todd Warshaw/Getty Images
Kenseth has a pretty solid fan base. His merchandise sales ranked in the top 10 during the 2011 season. He is a popular driver and seldom will you hear anything negative about him.
It does seem odd indeed that a driver the caliber of Kenseth does not have sponsorship for the full year.
The driver of the No. 17 is off to a strong start this season and somewhere out in the land of corporate sponsorship dollars, some company is missing a great place for their logo.
Kenseth is one driver who certainly deserves sponsorship for the full season.
Jack Roush will keep the Daytona 500 champ on the track regardless of whether more sponsorship  comes through or not, but it remains a mystery why he lacks those corporate dollars.