Roger Federer Defeats Ryan Harrison at Sony Ericsson Open: 4 Key Moments
March 24, 2012

Clive Brunskill/Getty Images
Roger Federer's 6-2, 7-6 victory showed young American Ryan Harrison has a long road ahead if he is to develop into a top player. Federer's control was evident in several ways, while Harrison's tension was highlighted through erratic and occasional promising play.
Here are four snapshots from the match that illustrate where Federer and Harrison are in their respective careers.

Opening Siege
Federer came out with great energy. His eyes were focused, and he bounced on the balls of his feet like Rafael Nadal. His footwork set him up repeatedly for easy positions to hit from both sides.
Federer's exceptional footwork is like former pitching legend Greg Maddux's masterful command of the strike zone. He rarely had to deliver hard stuff, but he worked Harrison all over the court with a variety of pace and location.
Early on, he fed Harrison's backhand a steady diet of deep corner forehands. Harrison was sometimes forced to hit off his heels, and he quickly trailed 3-0.
 
Harrison's Achilles Heel
Harrison relied heavily on his serve, and looked to finish off points too quickly.
Often after he hit a good serve, he opened up to hit his forehand so hard that he often bounced too far forward. He wasn't prepared to move laterally off Federer's solid returns.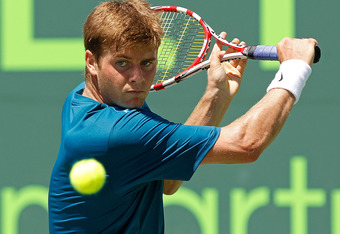 Mike Ehrmann/Getty Images
This will be the key area to watch in Harrison's development as a professional. If he is to someday become a top ten player, he will need to become more effective in playing longer rallies and points. Too often, he tried to end the point on a spectacular blow that was either returned or resulted in an unforced error.
An example was in the fourth game of the match. Harrison hit a nice forehand and was lunging so far forward that he was unprepared for Federer's forehand return right in the middle of the court. Harrison hit a mid-court swinging volley that sailed beyond the baseline. It was more of a quick reflection of the moment than a lack of talent.

Gods vs. Mortals
In The Iliad there are several scenes when the various Greek gods participate on one side or the other in the Trojan War. In a way, these gods are like Federer, Nadal, Djokovic, and to a lesser extent Andy Murray. They mow down the soldiers with immortal ease. This is what it feels like when watching Federer on his game against a young upstart.
Federer, after having polished off Harrison in an easy 6-2 first set, served at 1-1 and 30-0, and hit a good, wide serve that Harrison effectively poked deep to Federer's deuce court.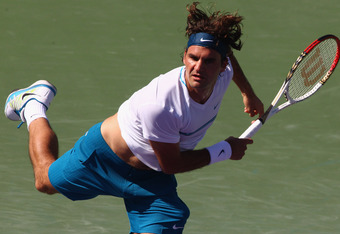 Clive Brunskill/Getty Images
Federer gobbled it up, whipping his wrist late and with perfect disguise, but somehow pulling it completely off the court for a winner.
Moments later ESPN analyst Patrick McEnroe said, "(It's) one of those days for Roger Federer, where everything is working."
Harrison showed he was Fed-up by nearly tossing his racket in anger.
After a break to fall to 1-3, Harrison did toss the racket onto the court.
Federer had complete command a game later when he hit a beautiful 91 mph second serve that kicked abnormally high to Harrison's forehand inside the ad court. Harrison had to back-pedal,  but by the time he hit it, Fed was camped out at net for the easiest volley of the day.
The Roger Federer clinic of classic tennis was in full performance.

Odd Drama
At 55 minutes, it looked like Federer would serve out the match at 5-3.
But Federer made some errors including a mis-framed overhead that missed the court.
At 15-40, Federer hit a return deep to Harrison's baseline. A fan yelled "out", and Federer guided Harrison's return to the sidelines, not realizing the play was still live.
The chair umpire told Federer it was a fan's distraction, and Federer was unable to contest the ruling or break of serve.
Harrison, to his credit, rallied with more fire. He relaxed more, won a couple of long points and took advantage of Federer mistakes. At one exchange, a Harrison net cord dropped lovingly over Federer's side of the net.
A point later, with Federer controlling a rally, a lines person made a critical error of judgment in calling a Federer shot out. The replay showed the shot to be on the inner half of the line. Federer had to replay the point and lost it.
Though Harrison gutted out the final 25 minutes for a respectable finish, Federer finished off the tie-breaker with a 7-3 win.

The Odyssey continues
Federer will next take on longtime opponent Andy Roddick, who has usually taken the brunt of their battles.
For Federer, it was another successful march in the early stages of the Sony Ericsson Open, and more importantly another move forward in his quest for Grand Slam glory.
Harrison can hold his head high for competing to the end, but he will need to work much harder to one day join the Olympus of tennis gods.