Elite 8 2012: Power Ranking NBA Draft Prospects Left in Tournament
March 24, 2012

Kevin C. Cox/Getty Images
It's the Elite Eight, so NBA scouts will be watching potential NBA draft picks closely this weekend. A good amount of the talent on display will likely be taken in the first 14 picks, better known as the draft lottery.
This is a power ranking of the players still balling for free that figure to be lottery picks this June.
1. Anthony Davis, Kentucky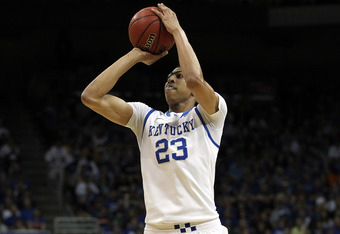 Jonathan Daniel/Getty Images
The uni-brow had a tough game against the Hoosiers in the Sweet 16 matchup. He tallied only nine points and five rebounds in 25 minutes. Luckily for Kentucky, they have a few other studs, and they picked up the slack.
That game doesn't change the fact that Davis has a shot at being selected first overall in June and probably no lower than third.
He is a sick shot-blocker, averaging just under five per game this year, and his amazing length and athleticism reminds me of a more agile Marcus Camby.
Remember, Davis had a huge growth spurt over the past year-and-a-half. He possesses ball-handling skills that he hasn't had the opportunity to show at Kentucky.
He's an interesting and exciting prospect.
2. Thomas Robinson, Kansas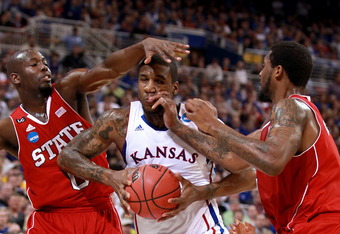 Andy Lyons/Getty Images
Robinson is a beast, but he's only about 6'8" with a power forward's game. Robinson is built like a tight end, though, and he has underrated athletic ability. He averaged a strong double-double this season with 18 points and 12 rebounds per game.
Robinson's best trait is his relentless approach. Dude is a big-time competitor and he takes on personal challenges and embraces the team leader role. Think of him as a slightly bigger and more athletic Carl Landry. That type of player projects to a 15-and-eight player in the NBA.
3. Michael Kidd-Gilchrist, Kentucky
Every time I see this kid, I'm more impressed. He is a relentless worker around the basket, and it allows him to play bigger than his 6'7" frame. MKG averages 12 points and 7.5 rebounds per game, but those scoring numbers would be higher if he didn't play for the NBA's 31st team.
He needs to develop his jump shot—he only shot 24 percent from three this season—but that can be handled with repetition.
Think of a cross between Gerald Wallace and Shawn Marion, without the fluky jump shot, and that's what Kidd-Gilchrist projects to be.
4. John Henson, North Carolina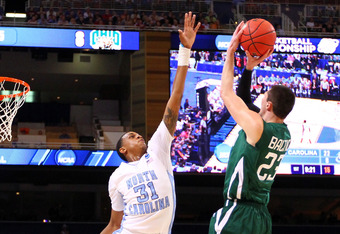 Dilip Vishwanat/Getty Images
Henson is rising steadily for me. He is an awesome shot-blocker, nearly in the same category as Davis, but he has also developed a smooth-looking jump shot from 15 feet. As that shot develops, Henson will become a big-time player.
He already averaged a double-double this season with 14 points and 10 rebounds per game. Add that to his three blocks per game, and it should be easy to see why he's here.
He is plenty thin right now, just like Davis, but he's a good athlete who plays with desire and passion.
He also has some Camby-like similarities, but he has developed the jump shot and that makes him a top-notch big man prospect.
5. Harrison Barnes, North Carolina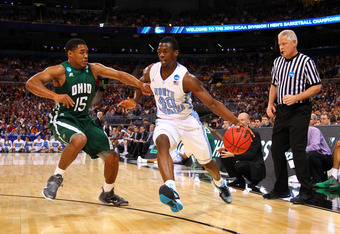 Dilip Vishwanat/Getty Images
I'm not as high on Barnes as many others are. He has a great attitude and fundamentals, but he has short arms and just doesn't appear to be a future go-to player in the NBA.
He has good athleticism and a strong body with a beautiful shooting stroke. He put in 17 points per game this year, but I don't see the fire and extreme competitiveness in him that I'd want in my star.
Barnes is worth a top seven pick, but I don't see him as a top three or four selection. He's a nice piece on a team that already has a lead guy.