Arizona Cardinals Free Agency: More of the Same for Cards
March 25, 2012

Ezra Shaw/Getty Images
The Arizona Cardinals' free-agency period continues to run according to form—which is to say, not a lot has happened. 
High-profile Peyton Manning courtship notwithstanding, the Cardinals' offseason has been relatively quiet thus far. Their mantra of core re-signings and behind-the-scenes re-structurings and tentative enquiries about outside free agents seems to remain the order of the day, and fans expecting anything more are likely to be disappointed.  
The team has fairly well-documented salary-cap constraints which have prevented the team from making any significant waves in free agency. And while the team's pursuit of Manning gave many fans hope that the team had more space available than projected—Manning was never going to come cheap, and yet the team was reportedly seriously a consideration until late in the process—Manning, it is clear, was an exceptional circumstance which would have required exceptional cost-cutting moves.
Perhaps the biggest free-agency moves have been out of the desert. One of the breakout stars of the 2011 season and one of defensive coordinator Ray Horton's MVPs, defensive back Richard Marshall will not be a Cardinal in 2012, leaving the team for the Miami Dolphins. 
Marshall was originally pegged as one of the team's top priorities, after Calais Campbell—who was given a franchise tag and remains without a long-term contract. However, though he reportedly gave the Cardinals multiple chances to match the Dolphins offer, the team ultimately refused.
Veteran defensive back and special teamer, Sean Considine, who was signed following an injury to Kerry Rhodes in 2011, was also allowed to walk and will compete as a backup in Baltimore in 2012. The loss of Considine is, of course, not such a big deal, as he is a perennial backup and has not started regularly since 2007, when he started eight games for the Philadelphia Eagles.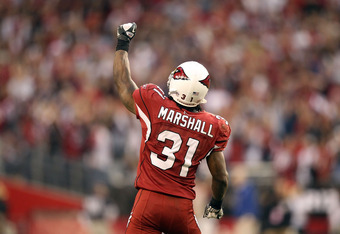 Christian Petersen/Getty Images
However, the loss of two free-agent defensive backs is a concern for the Cardinals, whose secondary was hobbled by multiple injuries in 2011.
Offensive lineman Rex Hadnot and wideout Chansi Stuckey were both released to help clear cap space. Stuckey failed to earn a spot on the team going forward after only one season on with the team. Hadnot has failed to cement his position on the line and became expendable following the Cardinals' first, and thus far, only, officially announced incoming free agent player, former San Francisco 49ers tackle/guard, Adam Snyder.
Snyder is a good signing, immediately bolstering the team's at times porous pass protection and giving them some much-needed flexibility, having played every position on the offensive line.
As a career 'Niner, Snyder also brings with him some much-needed insight into their division rivals and reigning NFC West champions, as the Cardinals look to rebound in 2012 and upset the San Francisco team.
The team has enquired about the services of a number of other players, though most have since signed elsewhere.
Two significant names remain in play, however—Demetrius Bell and William Gay.
Left tackle Demetrius Bell visited Arizona early in free agency and remains without a contract. Bell would address one of the Cardinals' most pressing needs, a true left tackle, and would allow them to slide the recently re-signed Levi Brown—who signed a much more cap-friendly five-year contract with the Cardinals a few days after being released—back to the right, where he appears more comfortable.
Bell is reportedly also in talks with the Washington Redskins, but has not yet ruled out the Cardinals as an option.
Cornerback William Gay has also recently visited the team, and, according to his most recent tweet, claims to have chosen the Arizona Cardinals as his new team, though nothing official has yet been confirmed. 
Gay, who knows Ray Horton well from his time in Pittsburgh, would be a near straight swap for the outgoing Marshall, a nickel corner with a great deal of flexibility in the secondary, able to fill in at multiple spots, and is a good fit for the Cardinals if true. However, until official confirmation is received, it remains speculation, though fairly good speculation, considering the source. 
Otherwise, the Cardinals' moves have been largely predictable.
As mentioned, Levi Brown has signed a new long-term contract and Calais Campbell will play in 2012, under the franchise tag, though the team remains hopeful in signing him to a long-term deal.
To no one's surprise, veteran kicker and Cardinals fan favorite Jay Feely has signed a new two-year contract with the team, while backup guard/tackle D'Anthony Batiste was signed to a one-year deal.
Wide receivers Early Doucet and Stephen Williams have also received new deals. Doucet received a two-year contract extension after receiving a modicum of interest on the free market, while Williams signed his one-year tender shortly after it was offered to him.
Finally, free-agent special teamer Reggie Walker has tweeted that he will remain with the team, though once again, we await official confirmation. 
Otherwise, things remain quiet and look set to continue in that vein for the foreseeable future.
However, for the Cardinals, slow and steady is likely to be the correct way to continue. They were close to achieving success in 2011, ending only one game outside of the playoff hunt, and organic growth is likely to continue to be the order of the day in Arizona.