2012 Fantasy Baseball AL-Only Closer Rankings
March 24, 2012

J. Meric/Getty Images
Here's the 2012 Lesters Legends Closer Rankings for AL-Only leagues.

1. Mariano Rivera, New York Yankees 
I admittedly ranked Mo way too low last year. I figured Rafael Soriano's presence would lead to less work. Until Mo hangs it up, he's an elite option. Last year he had 44 saves, a 1.44 ERA, a 0.90 WHIP and 60 Ks in 61-1/3 innings. With a better rotation, he should easily be able to cruise to another banner year.

2. Andrew Bailey, Boston Red Sox
Makes the move to Boston coming off a 24 save, 3.24 ERA, 1.10 ERA and 41 Ks (41-2/3 IP) season. He has the ability, but is oft-injured.

3. Jordan Walden, Los Angeles Angels 
Walden ran with his opportunity last year picking up 32 saves with a 2.98 ERA, 1.24 WHIP and 67 Ks in 60-1/3 innings. He has a great rotation in front of him.

4. Jose Valverde, Detroit Tigers 
Saved all 49 of his attempts last year with a 2.24 ERA, a 1.19 WHIP and 69 Ks in 72-1/3 innings. I can't imagine that he will repeat that kind of success.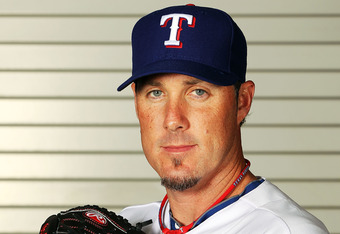 Jamie Squire/Getty Images

5. Joe Nathan, Texas Rangers 
Nathan has a new home as well and it's tougher on pitchers, but he has a solid staff in front of him, a great offense behind him, and an excellent track record.

6. Sergio Santos, Toronto Blue Jays 
Saved 30 games last year for the White Sox with a 3.55 ERA, a 1.11 WHIP and 92 Ks in 63-1/3 innings. Francisco Cordero is there if Santos struggles, which is a bit of a concern.

7. Brandon League, Seattle Mariners 
Delivered with 37 saves, a 2.79 ERA, a 1.08 WHIP and 45 Ks in 61-1/3 IP.

8. Chris Perez, Cleveland Indians 
Saved 36 games last year with a 3.32 ERA, a 1.21 WHIP and 39 Ks in 59-2/3 innings. The strikeout rates scares me.

9. Kyle Farnsworth, Tampa Bay Rays 
He was brilliant last year despite only 25 saves, thanks to his sparkling 2.18 ERA, 0.99 WHIP and 51 Ks in 57-2/3 IP. Given his history and his age (36 in April), he makes me a little nervous of serious regression.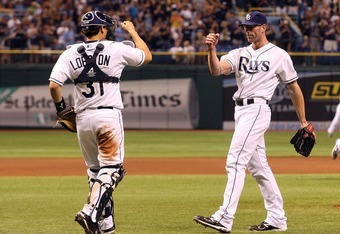 Charles Sonnenblick/Getty Images

10. Matt Capps, Minnesota Twins 
Capps saved 15 last year, but blew nine save opportunities. Not exactly a comforting feeling.

11. Jim Johnson, Baltimore Orioles 
He was solid last year with nine saves, a 2.67 ERA, a 1.11 WHIP and 58 Ks in 91.0 IP. Matt Lindstrom's presence concerns me, though.

12. Grant Balfour, Oakland A's 
He's the favorite to close for Oakland, though he doesn't have much experience in that role. He was rock solid last year (2.47 ERA, 1.03 WHIP), but closing is a different animal.

Also check out: