NBA Rumors: Vinny Del Negro Should Be Worried About Job
March 24, 2012

Streeter Lecka/Getty Images
The Los Angeles Clippers are in a state of panic after losing eight of their last 12 games. It may not be fair, but when times get tough, teams tend to fire the coach.
Especially when the team is as talented as the Clippers.
However, despite the rumors of head coach Vinny Del Negro's job being on the line, he is not feeling the pressure. 
After the Clippers' latest loss, Del Negro spoke with John Reid of the New Orleans Times-Picayune about the reports of him being on the chopping block, saying:
When you are losing games, everyone jumps on you. If you can't take the heat, you shouldn't do the job. You have to win games. That's what you are measured on. Players are frustrated and I'm frustrated. You are going to get knocked down sometimes, but you have to keep getting up. 
This came after a report from Chris Broussard of ESPN.com that cited an unnamed source saying that the coach had lost the locker room.  "Vinny has lost the team," one source said. "They don't want to play hard for him."
Broussard continues:
Most of the players, according to sources, believe it's time for a change. They cite the uncertainty of Del Negro's rotation as a major problem. With the front office adding several players to the roster throughout this shortened season—Reggie Evans, Kenyon Martin, Bobby Simmons and Nick Young—plus Eric Bledsoe's return from injury in February, players' minutes have fluctuated from game to game.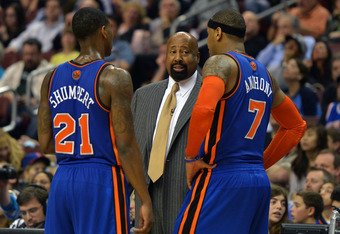 Drew Hallowell/Getty Images
Del Negro is near the end of his contract with the Clippers. The organization holds a team option for next year. The Clippers could fire Del Negro and turn to one of their assistants as an interim coach.
The New York Knicks went this route, firing Mike D'Antoni and promoting assistant Mike Woodson after the team had lost six in a row. That move worked, as the Knicks have won five of their last six games.
The Clippers are a good team and should make a deep playoff run. However, if they hold on to Del Negro, this team will be a quick out in the first round.