NCAA Bracket 2012: Ohio State and Florida Will Punch First Tickets to Final Four
March 24, 2012

Elsa/Getty Images
After dominating victories in the Sweet 16, Ohio State and Florida have proven that they are the best teams in their region and will move onto the Final Four after defeating their Big East opponents. 
Both Ohio State and Florida are very athletic teams that have a number of scorers that can break open their Elite Eight game. 
Ohio State is led by their All-American sophomore Jared Sullinger; while Florida has seen some great games in the NCAA Tournament by their freshman guard Bradley Beal. 
Ohio State over Syracuse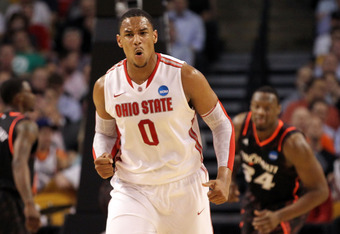 Jim Rogash/Getty Images
Syracuse was able to get past the Wisconsin Badgers in the Sweet 16 because of their dominant play inside the paint. They forced Wisconsin to do nothing but shoot from three-point range. 
However, against Ohio State, the Orange will be going up against the best forward in their region, Sullinger. 
Sullinger destroyed Cincinnati's interior defense in the Sweet 16 by going off for 23 points and 11 rebounds. The Bearcats couldn't find a defense that worked, as Sullinger had an easy time making 7-of-13 field goals. While those numbers are impressive, Sullinger was also nearly perfect from the free-throw line hitting 9-of-10 shots. 
Ohio State will be able to work the ball inside to the combination of Sullinger and their other forward Deshaun Thomas. 
For as good as Sullinger's play was, Thomas actually led the Buckeyes in scoring against Cincinnati with 26 points. 
The Orange are a quick and strong team, but they will be outpaced and out-muscled by this talented Ohio State squad. 
Florida over Louisville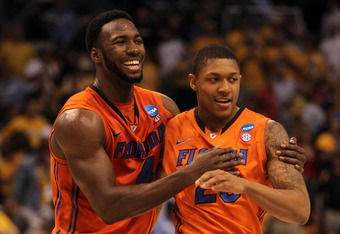 Jamie Squire/Getty Images
Florida has been steamrolling over their competition in the NCAA Tournament by winning each game by at least 10 points or more. 
In their first game, they blew out Virginia by 26 points. Then they were no match for Norfolk St., beating them by 24 points. And in the Sweet 16, this Gators team was never in trouble against Marquette, defeating them by 10. 
They've been getting a solid performance from Beal, as he's leading the team in scoring (16.3 points per game), rebounds (8.7) and steals (1.7). In fact, his 21 points against Marquette was the sixth time this year where he has scored 20 points or more.
Beal will be a big reason why Louisville falls short of the Final Four, as he'll have another game where he scores around 20 points while grabbing seven or more rebounds. 
Florida is a deep team who had five players average point totals in the double-figures. Louisville cannot just hone in on one player and think they'll be able to shutdown this dynamic offense. 
Because of Sullinger, Beal and the talented players that surround them, these two teams will be the first to punch their tickets to New Orleans, La. for the Final Four.