2012 NFL Draft: Why New Orleans Saints Must Draft Mychal Kendricks
March 23, 2012

Ezra Shaw/Getty Images
The New Orleans Saints will not have a pick in the 2012 NFL draft until the third round, and with that selection, they need to take Mychal Kendricks.
Kendricks is an insider linebacker from California, and he has shown versatile skills through game tape and skill drills.
The Saints have a big need in the middle of their linebacking unit. It is very likely that Jonathan Vilma will miss a large amount of the 2012 season due to the bounty scandal. New Orleans has also not re-signed versatile linebacker Jo-Lonn Dunbar.
Dunbar filled in for Vilma throughout a portion of last year, and he also started at outside linebacker. However, for whatever reason, the Saints have chosen not to bring this young playmaker back yet.
If the Saints decide to let Dunbar walk, then they will at least need some depth in the middle of their linebacking corps.
The Saints have brought in free agents Curtis Lofton and David Hawthorne recently, both of whom play the interior spot. At this point, neither have been signed by the Saints.
Even if New Orleans is able to sign Lofton or Hawthorne, they should pursue Kendricks in the draft. Kendricks is an athletic player wo could develop into one of the premiere middle linebackers in the NFL. The Saints could use depth immediately, and the fact that Kendricks could start soon helps as well.
This Cal product impressed a lot of people at the NFL Combine.
Kendricks was a top performer in his position group at the 40-yard dash, vertical jump, broad jump and 20-yard shuttle. This linebacker's 40 time of 4.47 was among the fastest of all middle linebackers.
The Saints can use a versatile interior linebacker all over the field.
Steve Spagnuolo is the Saints' new defensive coordinator and he demands a lot from his middle linebacker.
Spagnuolo typically only rushes with his four down linemen, and he expects his Mike backer to get to the runner or play well in coverage.
Kendricks is a guy that has the ability to make all of the tackles, but he is athletic enough to learn to cover well against tight ends and running backs. Spagnuolo will undoubtedly demand a lot from this young backer, but Spagnuolo and linebackers coach Joe Vitt could turn Kendricks into an All-Pro-caliber player.
Vilma has started for the Saints for several years now, but he has shown signs of slowing down after recent injuries. After hearing the suspension that Vilma is likely to receive from the bounty scandal, the Saints could decide to release him. If the Saints release Vilma and choose not to re-sign Dunbar, then they will be left will no quality starters in the middle of their defense.
New Orleans may be going after Hawthorne or Lofton in order to replace a player they know they will not have in 2012.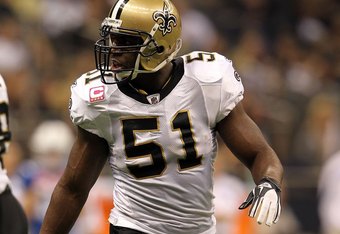 Jamie Squire/Getty Images
Regardless of what happens to Vilma, Dunbar, Hawthorne and Lofton, the Saints have to target Kendricks in the third round of this year's draft.
Kendricks is projected to go in the second or third round, but he is also coming off of shoulder surgery. Many teams will pass up a player with injury concerns, and it is likely that Kendricks could fall right into the Saints lap.
Earlier in the offseason, I thought that it was imperative that the Saints take a defensive tackle with their first pick in the draft. However, New Orleans recently came to a deal with Brodrick Bunkley to fill that need. Bunkley is better than any player the Saints could have gotten with their third-round pick.
New Orleans could use some help with the pass rush and on the outside of the linebacking corps, but the interior linebacker spot is needed much more. While in college, Kendricks showed that he has the ability to fill the running lanes and take down backs with force. He does not miss many tackles and should immediately contribute on special teams.
Kendricks is very fast and has good size at 5'11" and 240 pounds. He should be able to learn for a while behind either Vilma, Dunbar or a replacement. Even if the Saints are able to bring in Lofton, then Kendricks could likely move to an outside spot.
No matter what happens with the other linebackers, Kendricks is definitely worthy of a third-round pick.
With all of the drama surrounding the Saints right now, there is still football decisions to be made. New Orleans has to use their third-round pick on this star athlete from California.