Why New York Jets' Trade for Tim Tebow Is Proof Team Just Doesn't Get It
March 23, 2012

Marc Piscotty/Getty Images
Words cannot accurately describe the lack of sense in the decisions that the heads of the New York Jets franchise have made as of late.
Especially when they already had an incredibly disgruntled team in desperate need of a full-on attitude makeover.
A divided locker-room that likes to bash each other in newspapers. A loudmouth head coach that only holds his tongue when his players are tearing each other apart on Twitter.
And as if their in-house shenanigans weren't enough, they've now brought in even more drama.
Instead of finding a plausible solution to the bickering between teammates, the Jets bring in—drum roll please—Tim Tebow, the guy touted as "football's Justin Bieber."
(Which I found insanely appropriate, because both are overblown and obnoxious as heck.)
To paraphrase ESPN's Stephen A. Smith, who put it the most eloquently: It's a circus, and the Jets don't have a problem with entering it.
The trade for Tim Tebow was just more proof that that the New York Jets just don't get it.
First and foremost, trading for Tebow doesn't do single thing to solve any of the team's current issues with current starting quarterback, Mark Sanchez.
Set aside the excuse that new offensive coordinator Tony Sparano regularly ran the wildcat play when he was coaching the Miami Dolphins. That isn't an excuse to trade for the only quarterback in the National Football League that fancies himself a running back.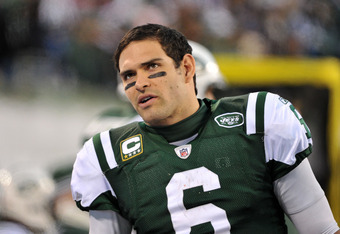 Christopher Pasatieri/Getty Images
If you want to bring Tebow in specifically to run the wildcat, other teams are going to be ready for it. Every other AFC team is hip to Tebow's "style" of play (if you can call his lack of quarterback finesse a "style").
Opposing team's already know Tebow had a dismal 46.5 completion percentage and tries to compensate for that by running the ball all by himself. Just a hunch, he won't be so successful at that in the 2012 season.
Furthermore, the Jets announced Thursday that they were going to be starting Mark Sanchez anyways.
So riddle me this: How does signing Tebow as a special case QB solve Sanchez and the Jets 21st-ranked passing and 22nd-ranked rushing?
Here's a hint: It doesn't solve a darn thing.
If I was Mark Sanchez, I would be incredibly pissed off. He's a thoughtful and sensitive player, a guy that "you've got to handle with kid gloves," as described by ESPN correspondent Ron Jaworski.
Not only is he a member of a team that is determined to mess with his head in order to get a good performance out of him, but now he has to go out onto the field knowing he's going to be replaced with the leagues biggest media hound the second he throws an interception.
Coach Rex Ryan has a history of ruffling Sanchez's feathers when he doesn't have a good game, even sitting him in practice.
And then Sanchez's teammates accuse him of being lazy during practice, but that's another issue for another article.
The New York Jets' acquisition of Tim Tebow is just another sign that there will be more trouble brewing in New York. And if the Jets are this willing to jump into a media circus, they probably won't be looking to get their helmet on straight and play solid, drama-free football any time soon.