Free Agent Signings Put the 49ers in a Great Situation as the Draft Nears
March 23, 2012
Ezra Shaw/Getty Images
I have repeated it over and over again, but it is something that the San Francisco 49ers are building their entire philosophy around.
Getting core players through the draft and supplementing in free agency.
No, we did not see them go out there and drop $50 million on a veteran free agent. These types of acquisitions are going to be few and far between, despite their flirtation with Peyton Manning.
With that said, San Francisco has had an extremely successful early free agent period. They return all 11 starters from one of the best defenses in the entire league, re-signed a bunch of key cogs and upgraded tremendously at the wide receiver position.
Teams that select in the bottom half the each round usually have minimal holes to fill because of their success the prior season. It goes without saying that the 49ers are a part of that "elite" group.
However, they do seem a little more set at positions on both sides of the ball than the best teams in the league. San Francisco lost one of their 22 starters from a season ago, Adam Snyder.
With all due respect to the veteran guard, it could be concluded that he was the weakest link on the 49ers roster. So, it doesn't seem like that big of a loss. 

What Does This Mean For The Draft?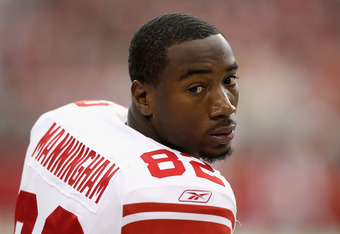 Christian Petersen/Getty Images
Instead of posting the 49ers current depth chart, I decided to link it for you. What it does show is that San Francisco is pretty much set at every position across the board with an exception of a few.
First, you can take wide receiver off the list of immediate needs. Any receiver selected in the first round would only be competing with Kyle Williams and Ted Ginn for the No. 4 spot behind the trio of veteran receivers on the roster.
You want to get immediate impact players in the first two rounds, a wide receiver just wouldn't make a big difference in 2012.
San Francisco will have to look at the right guard position unless they are sold on Daniel Kilgore and a possible veteran free agent at that position. They are also going to have to look at depth in the secondary, at linebacker, on the defensive line, at receiver and running back.
Other than that you are talking about a team that is pretty much set heading into April.
Best Player Available Option
As I mentioned above, the ability to go this route opens up a ton of draft opportunities in the war room. A team's list is no longer limited to a few players, rather you are looking at them being able to choose from dozens of the top prospects on their big board.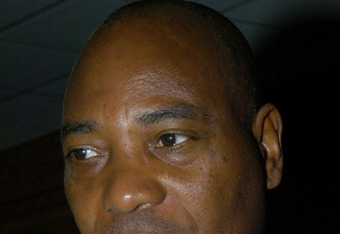 A. Messerschmidt/Getty Images
This is the way that the Baltimore Ravens and Ozzie Newsome have been operating for a decade now. It is also a situation that tends to remain consistent for years, as long as you draft well.
Right now the 49ers primary need is at right guard, so look for them to address that in the first couple of rounds. Outside of that they can pretty much go best player available with the other six picks. This enables San Francisco to get value where it is needed, in the middle rounds.
Despite the 2011 draft turning out great for San Francisco, they weren't in this position. They knew that pass rusher and cornerback were needs going into the draft and had to "reach" for certain players.
Remember the grumblings about Aldon Smith and Chris Culliver? While they turned out to be absolute steals, that won't be the case the majority of the time. I am sure the Cleveland Browns and Miami Dolphins front offices can speak about that.
What Scenarios are Available?
One thing the 49ers front office is surely talking about internally is trading away a lesser pick in the 2012 draft for a higher pick the following year. This is something that worked out well for them when they sent a 2009 second round pick to the Carolina Panthers for their 2010 first round selection. Mike Iupati, anyone?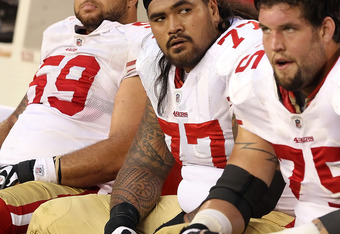 Christian Petersen/Getty Images
While this might not go over well with the fan base, it does seem to make some sense.
Of course San Francisco can just trade out of the 30th spot if they don't find any value at that position. If Ryan Tannehill drops to there you will see some quarterback-needy teams blowing up the 49ers phone. This enables San Francisco to get more picks in a loaded draft and the ability to maneuver in the middle rounds.
The David DeCastro Factor
While I am not an advocate of trading up in the first round, this does seem to be a viable option. The All-American guard from Stanford is one of the best prospects at his position in over two decades. In fact, I have him rated No. 6 on my big board. That is mighty high praise for an interior lineman.
Considering that DeCastro is projected to be an immediate All-Pro performer and he provides both value and need, there is no reason to think that the 49ers wouldn't talk to teams in order to trade up for the gifted guard.
This is all predicated on DeCastro falling out of the top 15 because trading up that high from 30 would probably set the 49ers back a 2013 first round pick. This is something that Trent Baalke and Co. definitely wouldn't do.
The idea of having Joe Staley, Mike Iupati, Anthony Davis and DeCastro along the offensive line has to scare the collective jockstraps off of opposing defenses in the NFC West.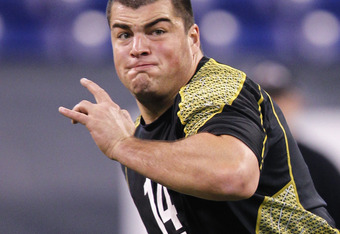 Joe Robbins/Getty Images
While San Francisco has invested three first-round picks on this unit over the last five seasons, they don't have a whole lot of money invested in it for the 2012 season (only $10.8 million between their five starters combined).
Conclusion
By simply being able to retain core free agents and fill holes where necessary the 49ers have put themselves in the most enviable position in the league when it comes to the draft.
Their entire big board, outside of quarterback, seems to be in play right now. This enhances San Francisco's ability to get the very best player in each round, something we couldn't have even considered just two seasons ago.
They are now on par with the Green Bay Packers, New England Patriots, Baltimore Ravens and Pittsburgh Steelers in this regard. In fact, it could be concluded that they are one step ahead of those four teams.
What a difference a year makes.