Pat Robertson Defended Tim Tebow by Putting a Bounty on Peyton Manning with God
March 23, 2012

Garrett Ellwood/Getty Images
Move over Pat Bowlen, there's a new Pat making headlines, and he wants to make personnel decisions for your Denver Broncos.
Pat Robertson, who once went on television and said the earthquake that nearly destroyed the nation of Haiti was "a blessing in disguise" because of a pact its people made with the devil, has come to the defense of Tim Tebow after being treated, per Robertson, "shabbily" by the Broncos. 
Robertson also said it would "serve them right" if Broncos quarterback Peyton Manning gets re-injured, leaving Denver without a quarterback. Via Fox Sports: 
And you just ask yourself, OK, so Peyton Manning was a tremendous MVP quarterback, but he's been injured. If that injury comes back, Denver will find itself without a quarterback. And in my opinion, it would serve them right.
Did Robertson just put a bounty on Manning and the Broncos…with God?
You can watch the clip here (forward to the 10-minute mark for his comments on Tebow).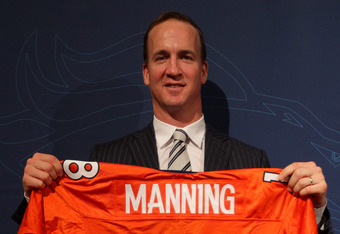 Doug Pensinger/Getty Images
Even Robertson's co-host let out a breathless "well," before moving on to the next segment as quick as humanly possible.
You really have to hear his voice inflection when he cries out, "he won seven games! He brought them into the playoffs, for heaven sakes. I mean, they were a nothing team!" 
Seven games! That's only 134 fewer wins than Manning has in his career!
How shabby of Denver to allow Tebow to leave for a better situation in his NFL career, rather than forcing him to sit on the bench behind Manning. How terrible of John Elway, Bowlen and the Denver brass to allow Tebow, per reports, to pick whether he wanted to play for New York or his hometown Jacksonville. Just awful!
It's sure sounds as if the evangelical preacher, who once compared college professors and academics to "termites" and "out and out communists…radicals, some of them killers," thinks that trading Tebow away from the Broncos in favor of a Hall of Fame quarterback should befall some sort of cosmic retribution for Denver, even though the move is ultimately better for Tebow.
Ironically enough, the move is actually better for Robertson's interests as well.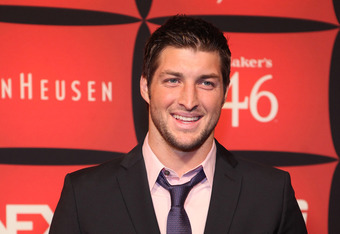 Robin Marchant/Getty Images
If Robertson's Christian Broadcast Network is in business to reach as many people as possible, isn't it better for someone like Tebow—who has made it part of his life's mission to spread a similar word to that of the CBN—ends up in the media capital of the world?
Forget about professional football, of which Robertson clearly knows very little. Doesn't Tebow getting traded to New York give the Christian movement a young, famous and incredibly handsome face in the biggest city in America to help galvanize the cause and convert as many new disciples as possible?
And isn't Tebow a better spokesman for that movement than a guy who, I don't know, once said the feminist agenda is an "anti-family political movement that encourages women to leave their husbands, kill their children, practice witchcraft, destroy capitalism and become lesbians."
Wouldn't Robertson agree that having Tebow in New York does more for the Christian faith than sitting on the bench in Denver?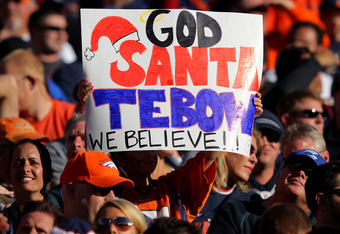 Doug Pensinger/Getty Images
I fully realize the sports world was turned upside down by the pointed ramblings of an 82-year-old man—his birthday was yesterday…happy birthday Pat! This could easily be one of those comments we all should ignore. But what's the fun in that?
Besides, it bears pointing out that Robertson's audience is far-reaching and the old man intimated on his flagship program that the Denver franchise basically deserves injury to fall upon Manning because people think he is a better fit at quarterback than Tebow.
Now, I'm not here to suggest people ignore Robertson's ramblings. The man has been evangelizing Americans since 1960 and I'm sure he will continue until the day he meets his maker. I just hope pointing out his most recent inanity might get some people to think twice about tuning in next time.
And in my opinion, it would serve him right.