Arsenal: After 6 Straight League Wins, Are the Gunners Back for Good?
March 23, 2012

Clive Mason/Getty Images
Eight weeks ago, the Rwandan president tweeted a series of Arsenal-related thoughts. First:
I very much support arsenal-but to be honest Wenger needs to coach another team now and Arsenal needs another Coach for +ve ...
Then this:
When a good team(players) and a good coach fail for long, to deliver, one of them has to change,or even both!!
And finally: 
The real/main danger is for anyone to get used to mediocre/lacklustre performance and/or results and accepts to live with it ..
This was gospel for a number of Arsenal fans.
"If a president could tweet that Wenger should go, then Wenger should or rather must go." That was the sentiment.
It was as though God himself had spoken. In fact, if God had spoken this many wouldn't have believed it. Coming from Paul Kagame, there's no higher authority on footballing matters and Arsenal coaching needs than that. 
The cyber world took up the chant.
Piers Morgan—my favorite whipping boy—was jumping all over FOX Soccer like a March Hare. Pity it was only dreary January and Arsenal were losing to Manchester United at home, and Arsene Wenger's own fans were booing him.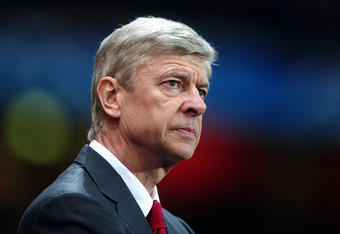 Laurence Griffiths/Getty Images
Arsenal's Problem
The problem started after Arsenal lost two back-to-back Premier League matches—2-1 away at Fulham and 3-2 away to Swansea—after failing to beat Wolverhampton Wanderers at home.
The Manchester loss was the third in this sequence. This was one loss too many for Kagame and others.
Headlines on B/R and elsewhere told the story. The pedagogues came out with titles such as "The 25 Things Wrong with Arsenal and Why Wenger Must Go."
When Arsenal beat Blackburn 7-1 to begin a sequence of six straight league wins, and then beat Sunderland 2-1 away from home, the critics' roiling stomachs quietened. But quiet, though, did not last. A 4-0 thrashing away at AC Milan made sure of that.
The headlines appeared again.
And now Arsenal have won four more in a row, dethroning Tottenham Hotspur from third place in the process.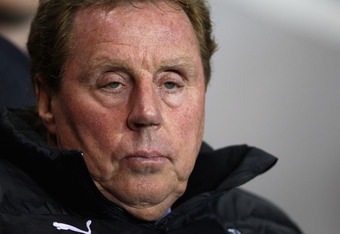 Julian Finney/Getty Images
Spurs and Liverpool
After a run of four matches without a win for Spurs, including three back-to-back losses, I haven't seen headlines on B/R or elsewhere, nor a tweet from Kagame or some other god-like president, saying Harry Redknapp should go or "30 Reasons Why Spurs are Dung."
Neither has anyone said anything about Kenny Dalglish, who is having an equally bad run of results.
My point isn't that the press should call for the heads of these two managers; it is rather to highlight my surprise at the apparent double standards in place.
Are They Back?
The important question for me, however, is whether or not Arsenal are truly back. Will they hold on for the rest of the season, take the third spot in the Premiership table from Spurs—a spot many pundits only six weeks ago were saying that Spurs had sewn up—or will they suddenly collapse...again?
It would be naive of any Arsenal fan to think the team is now home and dry, that third position has been wrestled away from Spurs for good or even that fourth place has been secured.
Nine more matches means 27 points. That's a lot—enough for both Chelsea and Spurs to show Arsenal the back door.
That's not what we want, of course, which is why this question is relevant.
Are Arsenal back for good?
The Wins