What Would Tebow Do?
March 22, 2012

Robin Marchant/Getty Images
All it takes is a little Tim Tebow news to get America distracted from March Madness in the middle of March. 
Of course, we as fans are as much to blame for letting one of the greatest tournaments in the history of sports become secondary to offseason NFL news.
Yet, for some reason, this whole offseason saga demands our attention because in the center of it, is one of the most controversial characters in sports.
Tim Tebow.
To set the record straight, I am not a full blown Tebow supporter, nor am I a Tebow hater. While his ability to win games from behind has impressed me, I'm still wary about his ability to lead a team to the Super Bowl. That's not to say that there isn't anything to like about the guy. In fact, if all you did were to listen to what he says about his teammates and football, it's hard to dislike him. But, when God enters the discussion, people start to turn away. 
Putting all that aside, this must have been quite a week for Tebow. After being told that he would stay a Bronco, and possibly be the starter, his hopes were undoubtedly high. Yet, a mere three months later, he finds himself basically exiled out of Denver by not only Peyton Manning, but the same man that told him he would stay a Bronco: John Elway. 
After being betrayed by the Broncos organization, and then traded away for a measly fourth and sixth-round draft pick, it would be hard for God himself to get Tebow's ego back up.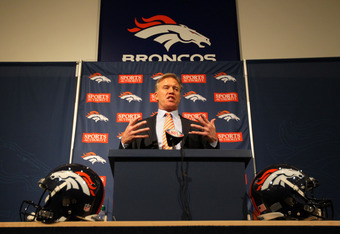 Doug Pensinger/Getty Images
Not only are the haters coming back in full force and the team that vowed to stay by him trading him in for the older, sleeker model, but the team that Tebow was traded to, the New York Jets, already has a starting quarterback. If draft day was one of Tebow's best days, Wednesday must have been one of his worst. 
Yet, after going through hell week, Tebow is doing what he does best, whether it's intentional or not: he's keeping his spirits high and saying all the right things. 
Through everything he has said, there has been no word of hate or despair on leaving the Broncos. In fact, Elway said that when he told Tebow that they were going to sign Manning, Tebow was disappointed, but very positive. According to Foxsports.com, "Elway said Tebow was 'very positive. He's like, 'We're talking about Peyton Manning. I understand what you're doing.'''
Even after finding out that he was basically being replaced, Tebow kept a positive mind, and understood who was replacing him. The most amazing part of that is that Tebow said this privately with Elway. For those who believe Tebow is putting on a show to make himself look better when the cameras are rolling, you need to look at this before saying another word.
Moreover, it's not like the Jets are welcoming Tebow with open arms. Jets great, Joe Namath was quoted as saying, "I don't think they know what they're doing over there right now. They give Sanchez a new contract, they pat him on the back and then they bring in two more quarterbacks."
Additionally, Jet cornerback,Antonio Cromartie tweeted (via New York Times), "Y bring Tebow in when we need to bring in more Weapons for@Mark_Sanchez let's build the team around him. We already signed to 3 year ext." 
Even before Tebow has set foot on the field, he is being criticized by fans and his own teammates.
This is nothing new to Tebow, though. 
Throughout his NFL career, Tebow has been incredibly scrutinized and insulted for being not of the norm. The fact that he is outwardly christian may be the reason, or it could be the fact that Tebow has trouble throwing the ball and is a run-first quarterback. Whatever the reason, Tebow has had to endure. And give him credit, the pressure and doubters haven't gotten to him, he has remained calm throughout his career. 
After all that, Tebow comes out with a positive mind, saying the right things. NJ.com quoted him as saying "I always try to put the team first. ...My goal is to hopefully make the Jets a little bit better, to be a great teammate."
With players like Jet's backup quarterback Drew Stanton crying that his job is now in jeopardy because of Tebow's arrival, and Matt Forte's complaining about being disrespected by the Chicago Bears for signing running back Michael Bush, the evidence is all around on how players can act out when they feel they are being replaced. 
Yet, Tebow remains as upbeat as ever. Already complimenting the fanbase there, he believes that "It's going to be exciting to be in the New York market, going to be fun because people are so passionate, they care so much and they're behind you so much." 
No matter if you like him or despise him, Tebow's ability to maintain himself in tough situations, situations in which he would have all the acceptance in the world to blow up at, is something I no doubt would want people to learn from. He shows that even if some people don't like you or feel you aren't good enough, it's important to keep your head up and hope for the best. It's a skill I would want my kids, and my kids' kids to learn about. Hopefully, you want the same for yours.
Even after Elway said (via CBS Denver), "Tim Tebow is a great kid. If I want someone to marry my daughter, it would be him," he still turned against him and deserted him. 
They say it's "just business."
While part of that might be true, any good executive knows that public relations is key to have fans stay with the team. So having someone as positive as Tim Tebow on one's team is no doubt a good PR move. 
Many, just like Elway, want their daughters to marry the athlete Tim Tebow. In my opinion, many more should want their sons and daughters to look up to the person, Tim Tebow. 
Because, no matter what anyone says, Tebow is human. He just seems to be a better one than others.