Tim Tebow Trade to Jets: Polarizing QB Back to Square One
March 23, 2012

Jim Rogash/Getty Images
Put yourself in Tim Tebow's shoes.
You shock the world last season, leading the Denver Broncos to the AFC Divisional Round. The vice president of football operations, who just so happens to be John Elway, puts his trust in you. And there's no one on the Broncos' quarterback depth chart who scares you.
Then...the unthinkable happens. The Broncos land Peyton Manning of all people and your starting gig disintegrates into Denver's thin air.
Oh yeah, did I mention you've been traded to the New York Jets, where you won't be starting?
And so goes the up-and-down see-saw that is Tebow's career. One minute, all you can see is sky. The next, you are looking up at Mark Sanchez on the other end of the see-saw.
On top of that, all you and a seventh-round pick got the Broncos was a fourth-round pick and a sixth-round selection. Talk about your all-time backfires.
Football analysts, of course, will say it was bound to happen. Tebow may have averaged 5.4 yards per carry last season, but he also completed just 46.5 percent of his passes. What's more, he averaged a mere 6.4 yards per pass attempt.
Now Tebow heads to the hectic world of New York, where Tebowmania is likely to take on a whole new meaning.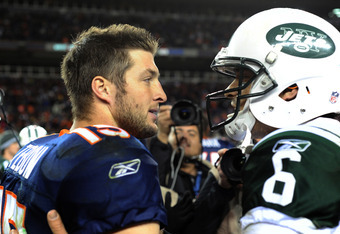 Garrett Ellwood/Getty Images
In fact, New York sports talk radio host Mike Francesa has already gone bonkers on a caller regarding Tebow, in true Mike Francesa fashion. And, believe me, there's more where that came from.
A year after competing with Kyle Orton and Brady Quinn for the starting job, Tebow is once again a backup, this time in an entirely different city.
What's worse, Tebow has to now compete with Sanchez, Drew Stanton and Greg McElroy, a far cry from Denver's razor-thin quarterback depth chart last season.
Why did the Jets make this move in the first place? Who knows.
But one thing's for certain: The Tim Tebow we have come to know, love and criticize has a lot of work to do.
Follow me on Twitter. We can talk about Tim Tebow and the J-E-T-S, Jets, Jets, Jets.