Manchester City: Citizens' Squad Strength Shows in Win Against Chelsea
March 22, 2012

Alex Livesey/Getty Images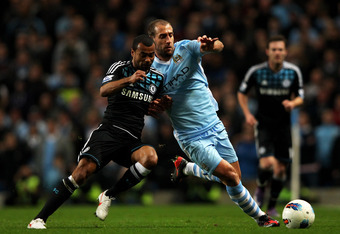 Alex Livesey/Getty Images
As we all know, Manchester City came from behind last night to beat Chelsea 2-1, with Carlos Tevez assisting for the winning goal.
Tevez's name has been mentioned up and down the land as he made his comeback after not playing for City since September.
However, an under strength City side shone last night with some of the so called "second-string" showing that in fact they too are word class in their own right.
The two who really shone were French midfielder Samir Nasri and Argentine full-back Pablo Zabaleta.
Nasri was the man of the the match. His energetic display made up for what was a lacklustre performance from David Silva.
The Frenchman hit the bar midway through the first half with a lobbed shot that left Petr Cech stranded.
Another effort from around 35 yards whistled over the upright just before the half, too.
It was his approach play and his work-rate that really caught the eye.
The enigmatic Frenchman has been criticised somewhat harshly since his summer move from Arsenal. However, last night he looked back to his best.
It has been a big change for Nasri, who has gone from being one of the focal points of the Arsenal midfield to playing a more limited role at Manchester City. He has had his chances somewhat restricted with the strength of Roberto Mancini's side.
Obviously, Nasri's biggest contribution to the match was his goal, which he scored from a Tevez through-ball with a delicate chipped finish.
Meanwhile, Zabaleta is "Mr. Dependable" for City yet again this season, despite the fact his chances have been diminished a little with the resurgence of Micah Richards and some bad luck with injuries.
Last night, he was given the task of keeping Juan Mata quiet, while Richards moved in-field to partner Kolo Toure in the centre of defence. Richards also deserves a mention for the way he played against Fernando Torres last night, when he again showed why he should be an England starter.
Zabaleta was excellent, too, and played the little Spaniard perfectly while providing his team with a viable option when attacking down the right-hand side.
It was he who won the penalty that was converted by Sergio Aguero, with time running out, when his thunderous cross ricocheted against the hand of Michael Essien.
These two performances last night just went to show how good Manchester City are right throughout the squad.
Come the end of the season, it's the players like Nasri and Zabaleta who could just make the difference.