Tim Tebow Will Become Newer, Better Version of Brad Smith for Jets' Wildcat
March 22, 2012

Justin Edmonds/Getty Images
Although it took most of the day, finally, the New York Jets and Denver Broncos were able to complete the Tim Tebow trade, according to ESPN.
With that done, Tebow's skill set is quite familiar to Jets fans as Brad Smith brought roughly the same versatility.
One major difference between Tebow and Smith, though, is that Smith contributed more at receiver than quarterback, while both have the similar presence in the ground game.
In five season for New York, Smith only attempted eight passes as the Jets had Chad Pennington, Kellen Clemons, Brett Favre and Mark Sanchez as their prototypical starting quarterback. However, Smith did compile 767 rushing yards on 98 attempts and score two touchdowns.
As a receiver, Smith wasn't as much of a consistent contributor when compared to the rushing offense, but he did catch 64 passes for 557 yards and score two touchdowns. Playing in Buffalo last season, Smith caught 23 passes for 240 yards, so it appears he's developing as a slot man.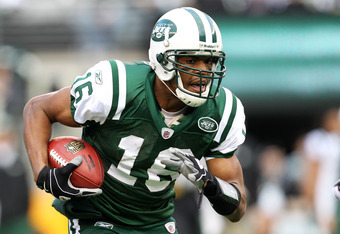 Michael Heiman/Getty Images
Smith added kickoff returner to his repertoire in gaining over 1,700 yards on 60 returns between 2009 and 2010, including three touchdowns.
Tebow on the contrary, will be looked at as more of a passing threat when getting playing time. Even if the Jets strictly use him as a wildcat quarterback, he's never going to line up as a receiver like Smith.
Plus, after last season, Tebow's scrambling ability will come in handy on second and third down as well as the red zone. Between 2010 and 2011, Tebow had compiled 887 rushing yards on 165 attempts and scored 12 touchdowns.
Certainly more productive than Smith, however, Smith wasn't a starting quarterback who scrambled either (in college yes, not in the pros). Nonetheless, Tebow, if anything, knows how to improvise and make something out of nothing.
Even as a passer—where he had 12 touchdowns to six picks, over 1,700 yards and a 46.5 completion percentage in 2011—Tebow would buy time and try to let his teammates make plays. The major concern anyone should have, though, are his 13 fumbles last season.
With the Jets, Tebow is a good fit as a specific wildcat package. New offensive coordinator Tony Sparano implemented that with the Miami Dolphins and when used properly, was effective.
Here, the Jets can't get all caught up in Tebowmania. Keep Mark Sanchez as the starter, but use Tebow's strength's to their advantage.
At least when Tebow is in the game the dual-threat applies, whereas Sanchez is not a scrambler. Unlike Brad Smith, Tebow isn't going to contribute as a receiver or return man, but he'll produce even more on the ground and have the opportunity to launch the rock downfield.
After all, the man does have a strong arm, excellent mobility and second-to-none intangibles. That being said, Tebow's skill set must be utilized wisely because Sanchez is the better pocket passer.
What Tebow's addition can also bring, though, is forcing the opposition to prepare more for New York's offense.
In turn, this is an advantage because a defense can only prepare so much for one quarterback. With an unorthodox coordinator in Sparano, Gang Green can really mix things up this season and confuse some opponents.
John Rozum on Twitter.