Gregg Williams Deserves Lifetime NFL Ban for New Orleans Saints Bounty Program
March 22, 2012

Matthew Sharpe/Getty Images
Former New Orleans Saints defensive coordinator Gregg Williams should never be re-instated from the NFL following his role in the team's bounty program that took place over several seasons.
NFL commissioner Roger Goodell gave out some severe punishments as a result of the Saints' bounty program on Wednesday, including a one-year suspension for head coach Sean Payton. However, Williams suffered the most severe punishment.
Former Saints (and current St. Louis Rams) defensive coordinator Gregg Williams is suspended indefinitely from the NFL, effective immediately. Commissioner Goodell will review Coach Williams' status at the conclusion of the 2012 season and consider whether to reinstate him, and, if so, on what terms. Commissioner Goodell said he will give close attention to the extent to which Coach Williams cooperates with the NFL in any further proceedings.
Williams' role in the bounty program made the game more dangerous and jeopardized the safety of the players. For not stopping the bounty program and allowing it to continue without punishing his players, Williams should never be allowed to coach again in any capacity.
Knocking players out of games can affect their well-being and ruins the enjoyment of the sport. Football is the most violent sport in America, so we don't need bounty systems making it even more dangerous.
Not only did Williams run a bounty program in New Orleans, he had a similar system with the Washington Redskins when he was on their coaching staff from 2004 through 2007, according to The Washington Post.
Three of the players described a coach who doled out thousands of dollars to Redskins defenders who measured up to Williams' scoring system for rugged play, including "kill shots" that knocked opposing teams' stars out of a game.

"You got compensated more for a kill shot than you did other hits," said one former player, who spoke on condition of anonymity.

Players said compensation ranged from "hundreds to thousands of dollars," with the biggest sum any player received believed to be about $8,000.
"I have learned a hard lesson and I guarantee that I will never participate in or allow this kind of activity to happen again," Williams said in an apology released on Wednesday.
However, while he says he's learned a lesson and won't let something like a bounty program happen again, can we really believe him? Williams has endangered the game for far too long. Coaches who run these evil programs must be punished and never be allowed to influence the sport in anyway again.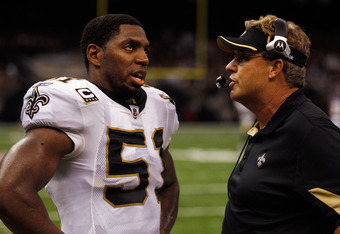 Chris Graythen/Getty Images
Williams is a disgrace to the NFL and is a villain. If Goodell re-instates him at any time in the future, he would make the NFL look foolish and unable to recognize the importance of player safety.
Even if Williams never told a player to go out and hurt an opponent and break someone's arm, he knew the bounty program existed.
The only way for Goodell to ensure Williams does not endanger his league further is by not allowing the despicable coach back into the game.