Mike Wallace and Pittsburgh Steelers Must Listen to Ben Roethlisberger
March 22, 2012

Gregory Shamus/Getty Images
Mike Wallace is the best receiver that Ben Roethlisberger has played with in the NFL. It's why Big Ben is begging the Pittsburgh Steelers and Wallace to come to an agreement and end the free-agency drama the team and receiver are going through. 
From Yardbaker with Fox Sports, Roethlisberger went on 102.5 WDVE in Pittsburgh to express his desire for Wallace to come back to the Steelers:
Later in the interview, Roethlisberger was asked about restricted free-agent wide receiver Mike Wallace and if he has been nervous about the possibility that he could leave now that free agency has started.

Roethlisberger replied, "Nervous is not the word. I'm scared to death. I communicate with Mike, I wake up every day and I'm like, Mike, please don't go anywhere. I'm begging you. I'm going to beg right now over the radio. Don't go anywhere, Mike. You know Mike is too good of a player, but Mike's an even better person. He's a great teammate, he's a great guy and he's someone that we need to have here.

"I'll be disappointed if he goes somewhere. I've got a good feeling that he's not. I don't know what it is, but I've just got a feeling he's not going to go anywhere, but I'm still begging every day and praying that he doesn't go anywhere."
Roethlisberger might as well go outside Wallace's home with a boombox while playing Peter Gabriel, like John Cusack in the movie Say Anything.
Before Wallace, Roethlisberger never had a season in which he threw for more than 4,000 yards. Since Wallace, Roethlisberger has had two seasons of 4,000 or more passing yards. 
If it wasn't for missing the Steelers' first four games of the 2010 season, Roethlisberger may have had three straight seasons of 4,000 yards passing. 
Having Wallace not only gives the Steelers a game-changing receiver, but it allows other receivers to flourish because of the attention that Wallace commands from secondaries.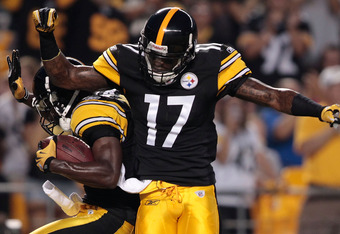 Jared Wickerham/Getty Images
Last season saw the rise of slot receiver Antonio Brown, who was targeted more than Wallace (123-113), and had just as many catches as Wallace (72-68). 
If the Steelers do not come to an agreement with Wallace, then defenses will hone in on Brown more, which will see his numbers—and Roethlisberger's—decrease. 
Wallace is a young and improving receiver that the Steelers cannot afford to lose. 
They have to get a deal done, before Wallace is signed elsewhere and comes back to Heinz Field to destroy the Steelers secondary.