St. Louis Rams: Top 4 Replacements for Gregg Williams
March 21, 2012

Matt Sullivan/Getty Images
New St. Louis Rams defensive coordinator Gregg Williams has received an indefinite suspension for his part in the notorious "bounty" scandal, as indicated on NFL.com.
The news leaves the Rams without a defensive play-caller as they look to rebound from 2011's 2-14 disaster. Jeff Fisher hired Williams for his blitzing style and the Rams will need to find a new coordinator versed in an aggressive scheme.
They have players like Robert Quinn, Chris Long and James Laurinaitus, whose strength is attacking the line of scrimmage. Here are the four best candidates to replace Williams and get the most from this defensive talent:
John Marshall
Marshall is a veteran defensive schemer, not afraid to attack with multiple blitz pressures. In 2010, his Oakland Raiders defense ranked second in the league with 47 sacks.
Marshall routinely sent several defenders on the blitz, allowing the likes of Tyvon Branch and Kamerion Wimbley to make plenty of big plays. He also has reputation for building strong defensive lines, something which should appeal to the Rams given the young talent along their front.
Mike Trgovac
Trgovac currently serves as the defensive line coach for the Green Bay Packers. His time working in the Packers' blitz-happy scheme will translate well to the kind of defense Fisher is expected to utilise with the Rams.
Trgovac served as the coordinator for the Carolina Panthers from 2002-2008 and has plenty of 4-3 experience. Throughout his career he has worked with linemen including Kris Jenkins, Julius Peppers and William Fuller.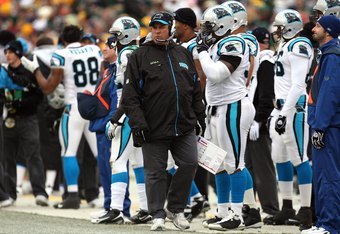 Jonathan Daniel/Getty Images
Eric Mangini
Mangini is one of the coaches you always feel should remain at the coordinator level. He is an aggressive play-caller and certainly is not afraid to bring pressure from all over the field.
Mangini is particularly fond of blitzing his secondary players. He may have coached a 3-4 throughout his career, but his defenses with the Cleveland Browns incorporated some elements of the "46" that Fisher is very familiar with.
Larry Coyer
Coyer became an unfair early casualty of the Indianapolis Colts' disastrous season. However, he is a veteran coordinator whose experience could be useful at this time.
Coyer's defense crumbled around him in 2011, but the fault was not his alone. He was bitterly criticised for his reliance on Cover-2 concepts.
Yet that is what the Colts defense was built to play. His secondary was ravaged by injuries and the unit received no help from an abject offense.
Prior to last season's fall, Coyer had done a respectable job with the Colts defense and had in fact succeeded in varying the playbook.
He is often wrongly thought of as a conservative coach, but Coyer is not shy about bringing pressure. His Denver Broncos defense blitzed Tom Brady and the New England into oblivion in the 2005-06 AFC Divisional Playoff.
Coyer would no doubt be anxious to prove that 2011 was not a true reflection of his expertise.
The Rams may be reeling from losing Williams, whose initial hiring was considered something of a coup. However, the team still has Fisher's defensive acumen to rely on.
The addition of a veteran play-caller with coordinator experience will more than compensate.