Fabrice Muamba Update: Positive Recovery Signs Will Allow Bolton to Play Freely
March 21, 2012

Ian Walton/Getty Images
Fabrice Muamba continues to make positive strides in his recovery after collapsing on the pitch last weekend, which should allow his teammates at Bolton to rest a little easier. His progress will also help the Trotters play their match against Blackburn on Saturday with restful minds.
Bolton's team doctor, Dr. Jonathan Tobin, visited the midfielder on Tuesday and reported things continue to improve, according to Mirror Football.
I'm glad to say that the early signs of recovery have continued. I went to see Fabrice last night. I went in and he said 'Hi, doc.'

I asked him how he was and he said 'Fine.'
Fine might not seem like much, but it's a massive improvement considering everybody's immediate thoughts after the incident. Hopefully he keeps trending in the right direction and no setbacks arise in his road back to complete health.
Bolton's players will still be thinking about him when they take the field to face off with Blackburn, but their thoughts can be more positive now that they know he's getting better. It would have been difficult to play the match if his outlook was still grim.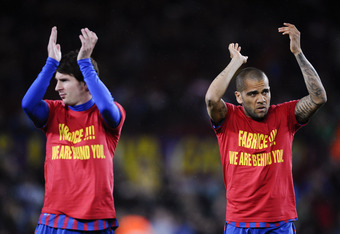 David Ramos/Getty Images
Muamba, who is still in the intensive care unit, isn't out of the woods yet. He faces a long journey to get back to full strength after one of the scariest on-field incidents in recent memory, but he's taken the first few steps.
Tobin told the BBC the 23-year-old Zaire native was "in effect dead" for more than an hour before doctors were able restart his heart. That's not something he'll be able to recover quickly from. It's going to take a gradual process while being monitored every step of the way.
Playing on Saturday is the best course of action to help things get back to normal. A strong performance from Bolton, which is attempting to fight off relegation, would help raise Muamba's spirits even more during this tying time.
That should give the Trotters all the motivation they need to have a good showing, but the result will be secondary like it should be during the current circumstances.
As long as Muamba is doing well, everybody at Reebok Stadium and around the football world will be happy.