2012 NFL Free Agents: Breaking Down How Peyton Manning Fits with the Broncos
March 21, 2012

Justin Edmonds/Getty Images
Peyton Manning has officially done it, swapping one horse for another when he chose to sign with the Denver Broncos only a day ago. Manning's new team is one that NFL fans never dreamed of as he has been a career long signal-caller and face of the Indianapolis Colts franchise.
However, life brings change and a new team is only the first step for Manning. The second one is the offense and how he fits it.
Many will immediately say, "Manning fits any system," but this is not true, as it's unlikely a surgically repaired neck to go along with lack of great mobility will enable Manning to be successful in the Broncos option packages that we witnessed last season under the leadership of Tim Tebow. 
Tebow and the Broncos 2011 offense featured many option run concepts such as zone-read and speed option, but they also utilized base NFL run concepts. These base concepts include but are not limited to counter, lead and power. These concepts were the key to the Broncos' successful running game, which returns Pro Bowl running back Willis McGahee. 
Denver's passing game is where there will be the most change, as the offense now will have a complete playbook open to them because of the superior arm talent that Peyton Manning brings. The question is, which playbook will it be and who will he throw it to?
Play-caller and offensive coordinator Mike McCoy has had to make more adjustments than anybody in the NFL within the last year to his philosophy, going from throwing nearly 36 passes per game with quarterback Kyle Orton to a heavy running offense under the direction of Tim Tebow. 
Now it's likely to be an offense that is heavy on running while Manning gets back into comfort in the early weeks and looks to pass more as the weeks pass by. The passing game will be of most interest for fans because of not only how Manning's health holds up, but also because of what the offense will be doing.
NFL offenses are typically similar, relying heavily on a certain amount of base concepts and simply presenting them out of various looks.
When Manning was a passer for the Colts, the offense relied heavily on play action and a blending of horizontal and vertical stretches in each concept with an abundance of option routes known as "tags" built in for each pass catcher. Many of the play-action passes that Manning checked to at the line had a vertical route built in, which was often a post.
This was one of Manning's favorite throws to make and one that he's made multiple times over his career in key moments. He has shown the requisite arm strength to deliver a perfectly thrown pass, as was seen against the New York Jets in the 2011 Wild Card Game.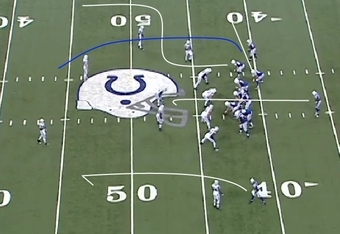 The 57-yard strike delivered by No. 18 came midway through the second quarter on 1st-and-10 yards to go. Manning came to the line with 12 personnel, featuring a single back and two tight ends. This personnel grouping suggested a running play and it appeared to be so when the ball was snapped, but New York's finest defense, at the time, appeared to be frozen in time when Manning put the ball in the belly of the runner and plucked it back out. 
A quick snap of the neck had Manning's eyes shifted down field and eyeballing his first read, Pierre Garcon. 
Garcon ran a post pattern with an outside release that made it appear he was going to run down the sideline. However, he broke back inside over the top of safety Eric Smith and created enough space between himself, cornerback Antonio Cromartie and late rotating safety Brodney Pool. This throw is a difficult one to make for many quarterbacks because they do not always have the velocity to throw a knifing throw down the middle of the field. This was not an issue for Manning, however, who threw a laser to Garcon for a big score.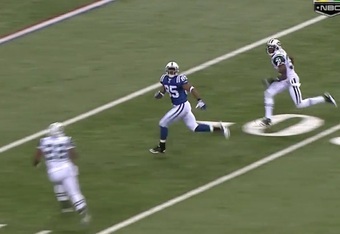 As was seen in the breakdown, the offense also had quality route runners, such as Reggie Wayne and Marvin Harrison, who had great timing with the quarterback. This could be an issue in Denver, where they have an explosive yet raw wide receiver in Demaryius Thomas and a host of other receivers who aren't of great quality at their position. Receiver Eric Decker is the best of the remaining bunch, as he is tough and the best route runner on the team.
Denver will have to add more weapons to the receiving core and one of the options they could look to is free-agent tight end Dallas Clark. Clark, one of Manning's long time teammates, has a great understanding of the offense that was run in Indianapolis and was an integral part of it for many years. He already has a connection with Manning and is a good fit at the tight end position for Denver. 
Another option is former teammate Jacob Tamme. Tamme, another tight end, was productive a couple of seasons ago, catching 67 passes for more than 600 yards with Manning throwing him the ball.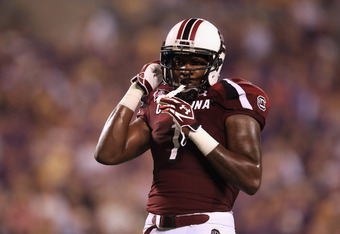 Streeter Lecka/Getty Images
While free agency offers the quickest plan for retooling, there's also the option of the 2012 NFL Draft, which has a plethora of pass catchers available. The Broncos have the No. 25 pick in the draft and could possibly have wide receivers Kendall Wright of Baylor and Alshon Jeffery of South Carolina available to them. Although they come with issues, both receivers are exceptionally talented and offer the team a lot on the football field. 
One thing's for sure—whatever the Broncos choose to do to reload, it will be a fun season in Denver.