Peyton Manning Contract Will Ruin John Elway's GM Legacy
March 20, 2012

Somewhere, Matt Millen is getting a jacket monogrammed with "John" for the newest member of the Great Player/Bad GM club.
The Denver Broncos and John Elway agreed to pay $18 million in 2012 and an additional $40 million over 2013 and 2014 to a 36-year-old (when the season starts) quarterback who missed last season because of nerve damage that made it impossible for him to throw the football.
I understand the Broncos wanting to replace Tim Tebow with Peyton Manning, but I don't understand paying him like he didn't miss last season and didn't have four neck surgeries. It pushes the pressure to win now thru the roof.
If the Broncos don't win the Super Bowl next year then the season is a complete failure.
Peyton Manning doesn't deal with pressure very well. He's not John Elway. The Colts were stacked on offense and had a very good defense while Manning was in Indy, but they lost their first playoff game seven times including four home losses.
The defense did its part, holding teams to just over 21 points a game in those four home losses. The offense was putting up not quite 19 points, so the Colts weren't losing 41-38 shootouts. That's with Marvin Harrison, Reggie Wayne, Edgerrin James and Dallas Clark all playing at a high level together.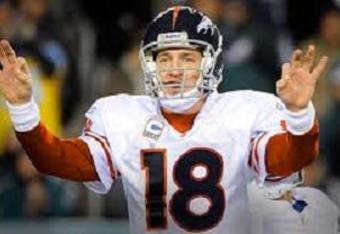 Denver doesn't have any of that. Eric Decker and Demaryius Thomas are not Harrison and Wayne. Willis McGahee was as good as he was last year because Tim Tebow froze half the defense. He may have been the only guy whose stats went up because of Tebow.
No one is going to stay at home to respect Peyton Manning's running skills. So backside linebackers will be chasing McGahee, and his bone-on-bone knees, down from behind. 
The defense was just as bad. Vonn Miller was great, but the Broncos' two best defensive backs were born in the 1970's. Champ Bailey will be a year older, not a year better, and Brian Dawkins will most likely be working for ESPN or the NFL Network.
Everything fell right for the Broncos last year, from total brain farts by running backs to blown coverages by defensive backs, and it was a fun ride because there were zero expectations. Now there are expectations—win the Super Bowl!
The Broncos have holes on offense, holes on defense and 15 percent of this year's salary cap going to a 36-year-old quarterback with neck issues, rust issues and a decade and a half of playing a minimum of nine games a season in a dome.
If it works then John Elway is Godfather II Michael Corleone. If it doesn't then Matt Millen is waiting to hand him a jacket and welcome him to the club.