New England Patriots' Volume Approach Isn't Pretty, but It Works
March 21, 2012
Matt Sullivan/Getty Images
Throw enough mud at the wall and some of it will stick. That's the New England Patriots free agency philosophy in a nutshell.
It may seem like Bill Belichick is playing pin the tail on the free-agent donkey, spinning around in circles and walking aimlessly up to the wall as many times as possible.
But I can assure you, it's much more calculated than that.
The Patriots have been taking this approach longer than you think and at more positions than you think.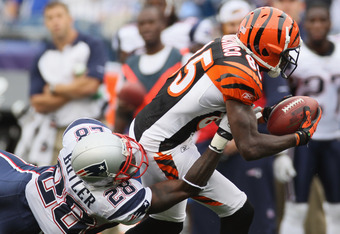 Elsa/Getty Images
Cornerback: 2007-2011
Perhaps the most highly-scrutinized position on the roster, the Patriots have invested first- and second-round picks at cornerback over the past five years and have taken fliers on free agents left and right as well.
In free agency, it's been Deltha O'Neal, Leigh Bodden, Sterling Moore, Philip Adams, Nate Jones and more.
In the draft, they've taken Mike Richardson (fourth round), Terrence Wheatley (second), Darius Butler (second), Devin McCourty (first) and Ras-I Dowling (second) since 2007. Kyle Arrington was an undrafted free agent.
Obviously, it hasn't worked out quite as planned, but you have to respect them for trying. Of all the positions the Patriots have taken this approach with, this is the one where they've had the least success.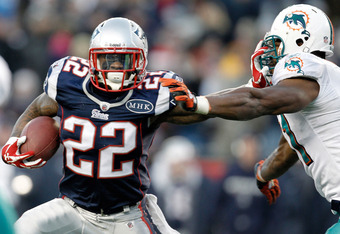 Winslow Townson/Getty Images
Running Back: 2010-2011
This is far less obvious, but the Patriots took more than a few dips in the running back pool over the past few years. It started rather innocuously with the signing of Danny Woodhead back in Week 2 of 2010. That obviously panned out for them, as Woodhead has been solid depth since he joined the team.
They went ahead with two more picks at running back in the draft, adding Shane Vereen and Stevan Ridley in the second and third rounds of the draft, respectively.
The jury is out on Vereen, who played 26 snaps in 2011, but the book is out on Woodhead, who has been a solid third-down back. We'll see on Ridley, but he showed some promise last year.
The Patriots have done well at running back, well enough that they could comfortably let their leading rusher for the past two years walk without much of an issue.
Gregory Shamus/Getty Images
Wide Receiver: 2007, 2012
The Patriots lacked dynamic play-making wide receivers in their loss to the Indianapolis Colts in the AFC Championship Game in 2006. They answered that with a bevy of moves, adding five new receivers in one offseason: Randy Moss, Wes Welker, Donte Stallworth and Kelley Washington. Moss and Welker stuck, while Stallworth and Washington were less successful and were shown the door. 50 percent success ratio isn't bad, especially when that 50 percent reaps the rewards of Welker and Moss.
In 2011, the Patriots once again lacked a dynamic field-stretching wide receiver. Stallworth is taking a reunion tour, and the Patriots also added Anthony Gonzalez and Brandon Lloyd. How these additions work out remains to be seen, but the Patriots are giving themselves options in terms of finding answers at a position of need. No harm in that.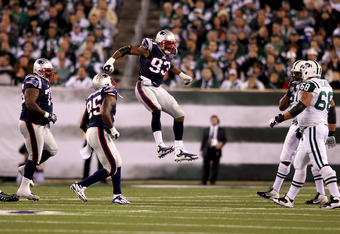 Nick Laham/Getty Images
Defensive Line: 2011
At one point in the 2011 training camp, the Patriots had 18 defensive linemen on the roster. Of course, that number went way down by the time camp came to a close. 
Among the additions were Mark Anderson, Andre Carter, Albert Haynesworth and Shaun Ellis. The first two turned out to be slam dunk pick-ups. Haynesworth and Ellis, not so much.
Still, to find two stud defensive linemen in one offseason is impressive, regardless of the method.
And with the success of that method in the past, it's no wonder they continue to take that approach in 2012.