Tim Tebow Trade Rumors: Packers, Patriots, Eagles and Teams QB Could Land With
March 20, 2012

Jason Merritt/Getty Images
With Peyton Manning agreeing to sign with the Denver Broncos, the team has reportedly put breakout star Tim Tebow on the trade market.
There isn't a fan in the NFL that doesn't have an opinion on Tebow and his style of play, but the only opinions that matter know are those of the GMs with the draft picks to deal.
While many people feel Tebow is not a good enough player to warrant a trade, there are some serious contenders in the NFL that would love to take on Tebow as an experiment.
Green Bay Packers
With Packers head coach Mike McCarthy already having an affinity for the young man, Tebow would have to accept the role as long-term backup again in exchange for the education on how to be a real quarterback.
While Tebow would never have a chance to start—unless it was the final game of the regular season and Green Bay had their season locked up—he could learn under one of the best quarterback tutors in the league.
A move to Green Bay would be one that could yield serious results in the future for a team willing to take a risk on him just as the Seahawks have Matt Flynn.
New England Patriots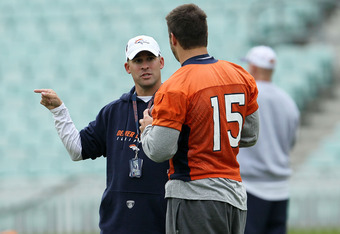 Chris McGrath/Getty Images
The team I feel has the inside lane to Tebowmania is the New England Patriots and their offensive coordinator Josh McDaniels. Don't forget, it was McDaniels that took Tebow in the first round as the head coach of the Denver Broncos.
While Brady is the clear starter until the day he chooses not to be, Tebow would have a chance to learn under one of the best coaches in the game and one of the best quarterbacks.
Tebow's nature as a good person will allow him to latch onto Brady and learn the ins and outs of the game while correcting all of the problems that plagued his mechanics in 2011 and throughout his career.
Philadelphia Eagles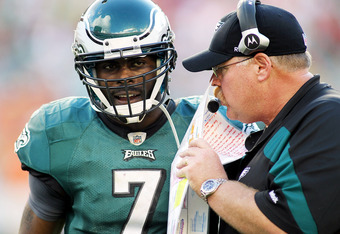 Marc Serota/Getty Images
There may be no better fit in all of the NFL for Tim Tebow than the Philadelphia Eagles. Their history with Andy Reid as quarterback re-inventors is well known, and Tebow fits right into that mold.
Just like Reid took players like Donovan McNabb and Michael Vick and turned them into pocket-passing stars that could run when needed, Tebow needs the same kind of training.
Not only would this be the best spot for the development of Tebow as a pure QB, it's the kind of project that a mad scientist like Reid would take on in a heartbeat. Add in the departure of Vince Young and a lack of a real backup QB and we just may see Tebow in Philly.
Check back for more on the National Football League as it comes, and check out Bleacher Report's NFL Page to get your fill of all things football.