Ohio State vs. Cincinnati: Game Time, TV Schedule, Spread Info and Predictions
March 20, 2012

Jared Wickerham/Getty Images
The No. 6 seeded Cincinnati Bearcats are gearing up to take on the No. 2 seeded Ohio State Buckeyes in what promises to be a great game between two in-state opponents.
It's going to be a feisty contest, and there are quite a few things to watch out for as these teams try to advance and continue their journey through March Madness.
Keep reading to find out when it takes place, where to watch, who to keep an eye on and a prediction for the final score.
Where: TD Garden, Boston, MA
When: Thursday, March 22 at 9:45 p.m. EDT
Watch: CBS
Live Stream: NCAA.com
Betting Line: Ohio State -7.5 (via CBS)
Key Injuries: No major injuries to report 
What's At Stake?
Nothing but a spot in the Elite Eight and the right to move one step closer to capturing the ultimate college basketball prize: a national championship.
This is a huge game, and one that takes on significant meaning since it will renew the Ohio State vs. Cincinnati rivalry that has been dormant and unimportant for many years now. 
What They're Saying
Reuters has the backstory on this rivalry game:
For only the second time in 50 years, the two schools will meet on the hardwood, this time in the Sweet 16. In the last meeting, Ohio State crushed downtrodden Cincinnati 72-50 in the 2006 Wooden Tradition. The Bearcats, who are in the Sweet 16 for the first time since 2001, finally get their shot at revenge.
These teams actually met in back-to-back years in the 1961 and 1962 NCAA tournaments as well, both times in the championship game. The Bearcats won both.
Most Important Player to Watch: Aaron Craft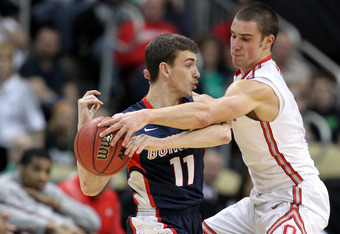 Gregory Shamus/Getty Images
Usually top prospect Jared Sullinger would be the man to watch, but he's going to have his hands full against Yancy Gates and may be best off deferring it to his world-class teammates.
Craft is one of those elite sidekicks and was also the Big Ten Defensive Player of the Year.
Against Gonzaga, he put up 17 points and 10 assists while locking down his man. He'll need to hamper the Bearcats' guards while dishing and scoring if the Buckeyes want to advance.
Key Matchup: Low Post
It's going to be a physical, draining, bruising game inside on Thursday night. These are two tough teams that pride themselves on defense and have the big bodies needed to protect the rim.
Anyone trying to go inside can expect to come up hurting.
Prediction
Ohio State 65 - Cincinnati 62