Ramon Sessions on Court for the Los Angeles Lakers
March 20, 2012

Stephen Dunn/Getty Images
Kobe Bryant always gets his man, and the Lakers have finally made their point.
Sure, a David Stern-nixed Chris Paul trade this preseason still leaves a taste of something bitter in Lakers fans mouths. The canceled trade deemed "unfair" left the Lakers in a state of despair and disrepair as Lamar Odom took his hurt feeling to Dallas for nothing and gutted the Lakers' depth and spread of the floor.
Incidentally, Odom wants back, but won't be brought out by Dallas and couldn't re-sign with the Lake Show like he and Bryant would like.
Coincidentally, CP3 ended up in L.A. anyway but for the rejuvenated Blake Griffin-led Clippers—a team that's taking the battle for L.A. supremacy to the STAPLES Centre floor in an effort to claim it as their own.
Unfair indeed.
It's clear the Lakers needed a fresh start to meet the trade deadline. The dangling of the Dwight Howard carrot had gotten real old the month before last, and many Lakers die-hards knew a Rajon Rondo move was too good or "Celtic" to be true.
Still, despite the talents of veteran Steve Blake and rookie Darius Morris, the Lakers needed a fresh changing of the guard and they've got that now in Ramon Sessions.
Many analysts and fans alike are praising what some term as the Lakers' first real point since...well, Magic Johnson's return in 1996. Then again, Earvin wasn't up to his old tricks then, and the Lakers had the talented Nick Van Exel running the quick guard spot. Also, these fans forget the Lakers had a future Hall of Famer for one term in the Hollywood hall with Gary Payton.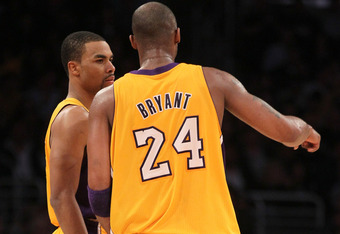 Stephen Dunn/Getty Images
Plus, all due respect must be given to clutch king and playoff legend Derek Fisher. He was a real guard and a real threat. Some may have not considered him a real point guard, but he was a real player. Besides, the reality is without him the Lakers wouldn't have had a real chance at winning all those championships. The No. 2 should be retired in "the Fish that saved L.A.'s" honor—period.
It's a shame that the collective bargaining agreement that Players Association president Fisher helped develop means that he couldn't return to the Lakers (yet, anyway) to come off the bench and shoot teams down despite Houston's buyout.
The problem is LeBron and the Miami Heat may be waiting for the Lakers playoff legend at airports again. Like Odom, a fond member of the Lakers family will only be part of the photo albums now.
Still, it's time for a different take.
The Lakers' current point guard and No. 7 is Sessions. The future of this ballclub. Seven points and five assists in a rousing 19-minute debut showed that Sessions is legit, and you can expect more from his him on court soon. Lakers favourite Luke Walton and three-point gun-for-hire Jason Kapono were worth giving up for this money player.
Sessions is a class player and sees it as a "dream come true" to be donning gold and purple, while Laker legend Bryant is getting over losing his career best friend Fisher by praising Sessions' "crafty" play and high basketball I.Q. It sure does sound like the troubled Lakers are making a new point and case for themselves. Happy days are coming back to Hollywood, and Sessions is sitting on it.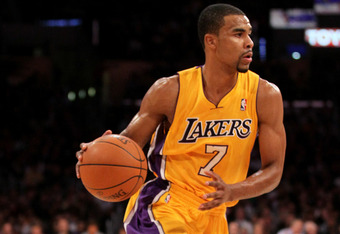 Stephen Dunn/Getty Images
The only reason Sessions didn't break out as an even bigger star in Cleveland, whilst showing everyone more of the potential and promise that he was poised to show is because he shared a backcourt with sure-thing Rookie of the Year Kyle Irving.
Still, Sessions has shined, and even in the same backcourt as the greatest ever not named "Mike," Sessions looks to gleam even more in the gold Hollywood shine of the celebrity-laden L.A. fan base.
Sessions' career high of 44 points and last season's career-leading 13.3-point average proves he can score, but his career 4.8 assists and his career dime-high of 24 shows he's a real PG too. His steals and rebounding performances also show he's an all-round player.
He's an all-round player who can join Kobe, the trade-safe Pau Gasol, the Dwight Howard-rivaling and ascending Andrew Bynum and the defensive star Metta World Peace to give the Lakers a new famous five that can keep up with the rest of the celebrity ballclubs in the league.
Plus with Steve Blake, Mat Barnes, new boys Jordan Hill, Christian Eyenga and Troy Murphy and many more, this triple-double player can help triple the chances and future investments of a team more known for making three-peats than third seeds in the playoffs.
Sure, right now the Lakers are a long way from the team they were a season back, but this and next season are looking better. The Lakers wont have to follow the leader for much longer with their new floor general taking them up the ranks. This year's been hard, but it's a new day and game now and the Ramon season is in session.