Fantasy Basketball: Faried and Gee Lead the Waiver Wire Playoff Pickups
March 20, 2012

Ezra Shaw/Getty Images
Depending on your league format, fantasy owners are either entering round one of their fantasy playoffs or in the homestretch of their regular season. 
Injuries have played a big role this year, where players like Stephen Curry and Eric Gordon have failed to contribute, but there have also been several positive surprises.
The Jeremy Lin rise to stardom has been well documented and how many analysts predicted that Ryan Anderson would be among the top-10 rated fantasy players with a month remaining in the 2011-12 NBA season?
With players returning from injuries, player trades and the firing of a couple of coaches, rotations are changing for several NBA teams. 
Here are some key waiver wire pickups for the upcoming week, each of whom are available in at least 60 percent of Yahoo and ESPN leagues.
Jason Thompson has shown flashes of fantasy relevance throughout his young career. Unfortunately, he has not received consistent minutes this season, averaging as low as 14.8 minutes per game in December to 29 minutes per contest in February. 
Although Thompson has started 28 games, he is often a victim of a four-guard lineup deployment of head coach Keith Smart, featuring DeMarcus Cousins as the lone big man.
However, in the last four games, Jason Thompson has averaged a double-double while shooting 69 percent from the field. 
With upcoming games against the big front lines of the Memphis Grizzlies (Gasol and Randolph) and the Utah Jazz (Jefferson and Millsap), expect Thompson to continue to log big minutes and provide help in points, rebounds, and close to 1.5 blocks/steals per game.
As of March 19, he is available in approximately 90 percent of ESPN leagues and almost 80 percent of Yahoo leagues.
Alonzo Gee has averaged 13.8 points, 5.1 rebounds, 1.1 three-pointers, and a whopping 2.4 steals per game when starting for the Cleveland Cavaliers.
With seven consecutive starts in March, Gee has cemented himself in the starting lineup. His role as Cleveland's best swingman defender will keep him on the court for over 30 minutes per game.
This versatile small forward should continue to be a great source of steals and a consistent scorer for the remainder of the season. As of March 19, Gee is available in approximately 65% percent of Yahoo leagues and 60 percent of ESPN leagues.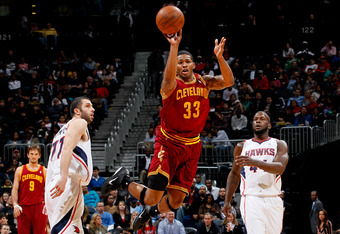 Kevin C. Cox/Getty Images
Spencer Hawes was in the midst of a breakout fantasy season when he injured his Achilles in January.  He has returned to the court, although he has yet to play in two games in a row, as a precaution.
On the season, he is among the top 60 fantasy players on a per game average basis due to his contribution in the block, rebound and point categories. 
Hawes is a great pickup for those playing in those "max games per week" leagues since he may sit out back-to-back games for the next couple of weeks. 
The 76ers have missed the starting center and need him for they playoff run, so when he is active, Hawes will be a solid source of points, rebounds and blocks. He is available in almost 80 percent of ESPN leagues and 65 percent of Yahoo leagues.
Kenneth Faried benefits from the Nene-McGee trade and is already playing at high level. 
Faried had earned his way into the starting lineup over a month ago and should now see an increase in minutes. 
Some would argue that not much would change because Javale McGee will simply be a replacement for Nene at the center position.
However, McGee is a much different player than Nene.
For starters McGee is a far less consistent than the Brazilian, leading us to believe that he will earn fewer minutes in the Denver frontcourt.
Over his young career, the former Washington Wizard 2008 first round pick has ended up in the doghouse of multiple head coaches due to lack of effort. Although Nuggets coach George Karl has a quiet demeanor, he will not hesitate to yank McGee if he takes plays off.
Faried, on the other hand, resembles a young Nene—a strong, explosive leaper and an extremely hard worker.
He has outplayed both Chris Andersen and Timothy Mozgov, and it a great pickup for those in need of rebounds and blocks. He is available in 65 percent of Yahoo and ESPN leagues.
You can view the original article at WinMyFantasyLeague.com