Tim Tebow: Best Offensive Fits for Denver Broncos QB
March 19, 2012

Elsa/Getty Images
Peyton Manning is now in contract talks with the Denver Broncos, according to ESPN's Adam Schefter.
That means it's likely the end of the road in Denver for popular quarterback Tim Tebow, who will likely be traded before the start of the season.
There are plenty of teams out there that could use a quarterback, even one as unpolished as Tebow.
But, in order to be successful with Tebow, teams need to have a strong running game and a solid defense.
So, even though some of these teams might not be too interested in trading for Tebow, here are three teams where he could thrive.
San Francisco 49ers
Even though Randy Moss would be furious, Tebow would be a good fit in San Francisco.
The 49ers have Frank Gore in the backfield. He's the focus of the offense and carries the load for the 49ers.
In terms of receivers, the newly-signed Mario Manningham could be Tebow's new Demaryius Thomas.
Also the 49ers have one of the best defenses in the NFL, so Tebow wouldn't have to light up the scoreboard to be effective.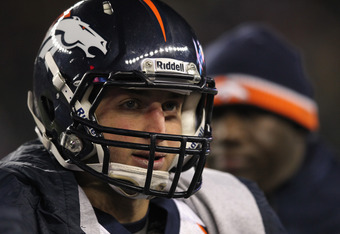 Jim Rogash/Getty Images
Trading for Tebow wouldn't hurt their chances for returning to the NFC Championship Game in 2013.
Jacksonville Jaguars
In addition to needing Tebow in order to sell more tickets, the Jaguars would actually be a good fit for Tebow.
They have a solid running game led by Maurice Jones-Drew, one of the best running backs in the NFL, and a strong defense.
They'll need to add a receiver or two to help out Tebow, but he could be a very effective quarterback in Jacksonville.
He'll never be lacking for fan support either. The former University of Florida star can do no wrong in that state.
Oakland Raiders
The Raiders already have a lot of draft picks tied up in quarterbacks, so it's unlikely they'll make a trade for Tebow.
But, can you imagine what it would be like if Tebow ran the option with Darren McFadden?
That rushing attack would be nearly unstoppable.
Then, giving him speedy receivers like Darrius Heyward-Bey would be great for the offense whenever they had to pass.
It's a scary thought for the rest of the AFC West, and they have to be thankful it probably won't happen.