UNC Basketball: 3 Players Who Must Step Up After Kendall Marshall Injury
March 19, 2012

Streeter Lecka/Getty Images
North Carolina star point guard Kendall Marshall has a broken wrist and might not be able to play in the Sweet 16 this weekend.
This is a huge blow to coach Roy Williams and his team, who relied on Marshall to run things on the offensive end of the floor.
But this team still has plenty of talent, talent that must step up big in the absence of their leader.
Someone is going to have to step up and replace some of Marshall's productivity. So, let's take a look at three guys who need to have a big weekend for the Tar Heels to advance.
Stilman White
White is a likely candidate to get more minutes if Marshall can't play.
The freshman is going to have to grow up in a hurry. He won't be nearly as good of a scorer as Marshall, but there's no reason he can't step in, make some crisp passes and run the offense.
When you have players like John Henson and Tyler Zeller in the post to pass to, it makes a point guard's job a whole lot easier.
White will be a significant downgrade, but there's no reason North Carolina can't advance to the Final Four with him.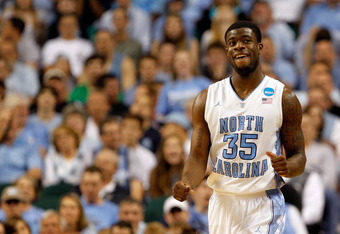 Streeter Lecka/Getty Images
Reggie Bullock
Bullock has been a great defender and an average scorer for the Tar Heels all season.
He'll probably have to handle the ball a little bit more for the rest of the tournament, regardless of whether or not Marshall plays.
He'll need to avoid turnovers and find open teammates at a higher rate.
In addition to all that, he needs to continue crashing the boards, as the sophomore guard is one of the best rebounders for his position.
John Henson
Henson is dealing with his own wrist injury, but he had a big game against Creighton, scoring 13 points and grabbing 10 boards.
He's going to need to take on an even bigger scoring load now, which will really test the strength of his wrist.
Without Marshall, the Tar Heels aren't going to score as many points, so Henson's defense needs to get back to normal.
If his wrist hurts too much to block shots, the Tar Heels might be in trouble this weekend.