Sweet 16 Schedule 2012: Weekend Matchups We Can't Wait to Watch
March 19, 2012

Kevin C. Cox/Getty Images
The Sweet 16 schedule has been released, many of our brackets hang by a thread if not already busted and we have the reached the calm before the storm on Thursday.
All of these factors combined add into the excitement and hype of the Sweet 16 and the games that will be played on Thursday and Friday of this week. 
For the first time since 2009, the No. 1 seeds all made it through the first weekend without a slip-up. With many of the tournament favorites still in play, there should be plenty of good basketball on tap. Add in the Cinderella stories of Ohio and NC State, and the Sweet 16 should be as sweet as ever. 
Cincinnati (6) vs. Ohio State (2)
Yancy Gates vs. Jared Sullinger. Two of the country's elite big men will go head to head in an attempt to reach the Elite Eight. As the top-ranked big man and one of the top-ranked college players, Sullinger is sure to have his hands full, unlike most other times this season.
Gates, who many thought should have been kicked off the team following his role in the Dec. 10th brawl that broke out against Xavier, has thrived this season, averaging 12.4 points, 9.2 rebounds and 0.9 blocks per game and acting as a dominant force in the Bearcats defense.
Alongside Gates, Cincinnati plays a four guard offense with Sean Kilpatrick, Dion Dixon, Cashmere Wright and Jaquon Parker.
The matchup of Cincinnati's guards against Ohio State's size should be a good battle. Cincinnati will need to do a better job of beating defenders off the dribble, something they struggled mightily at against Florida State. It will be tough to do so against the size of Ohio State, but if the Bearcats can get going, watch out.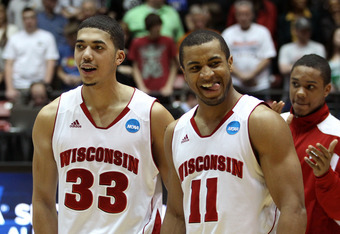 Christian Petersen/Getty Images
Wisconsin (4) vs. Syracuse (1)
Syracuse thrives off taking advantage of opponents' turnovers. Wisconsin doesn't turn the ball over.
Something will change on Thursday as the Badgers try to be the first team to knock off a top seed in the tournament.
While Syracuse likes to get out in transition and use its athleticism, Wisconsin wants to sit back and methodically lull opponents to sleep before striking from three or getting to the basket. While the Orange have survived without their star big man Fab Melo, this is a game when that absence could really have a negative impact.
The clash of styles will be something to watch closely as the game wears on. If Wisconsin can impose its will and slow down the game, Syracuse will likely get frustrated, but it still has an offense capable of competing withe Badgers in a half-court game.  
Indiana (4) vs. Kentucky (1)
On Dec. 10th, Christian Watford calmly knocked down a three-pointer at the buzzer to give the Indiana Hoosiers a huge upset against the Kentucky Wildcats, the first loss of the season for Kentucky.
On Friday night, the teams will suit up and play once again in an opportunity for Kentucky to get some major revenge or for Indiana to conjure up even more magic.
It will be incredibly difficult for Indiana, playing without starting point guard Verdell Jones III, who suffered a torn ACL in the Big Ten tournament.
It is unlikely that Indiana is able to pull off a major upset on Kentucky twice in the same season, but the opportunity is there and will surely have us watching this one.