March Madness 2012: Ohio State and the Hottest Teams Entering the Sweet 16
March 18, 2012

Gregory Shamus/Getty Images
The first weekend of the NCAA tournament has provided plenty of drama (well, at least on Friday anyway), and it's already becoming clear which teams are the major players and which teams will be in line for a less-than-stellar stay in the Sweet 16.
Here are the three hottest teams, all of whom have serious potential to win the national title.
No. 1 Kentucky Wildcats
If there were any doubts about Kentucky's lack of experience, the past two games shredded them rather quickly.
Anthony Davis already has nine blocks in the tournament, and Doron Lamb is averaging 16 PPG while the team is shooting 55 percent from the field.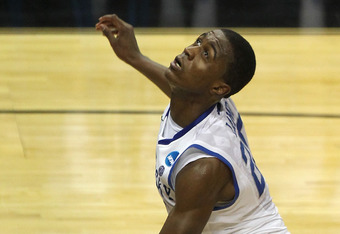 Jonathan Daniel/Getty Images
The Wildcats are looking angry, and they now get a chance to exact revenge against one of the two teams who beat them during the season. Expect the Wildcats to win big over Indiana.
The only beef with Kentucky right now is its free-throw shooting.
No. 2 Ohio State Buckeyes
Ohio State's lackluster play in the Big Ten turned off many from the Buckeyes, but make no mistake about it—this team is a title contender.
After they rolled over Loyola (MD) rather easily, the Buckeyes displayed some serious poise and guts in their 73-66 win over Gonzaga.
Jared Sullinger is one of the five best players in the nation and is playing his best at the perfect time. He shot 55 percent en route to 18 points on Saturday. After the game he talked about how this year is different from last year when Ohio State was a No. 1 seed:
We're more battle-tested. We've had our bumps and bruises this year and that's only made us stronger.
This team is not satisfied just being in the tournament, and I fully expect the Buckeyes to be sitting pretty at this time next week.
No. 3 Marquette Golden Eagles
The Golden Eagles were the strongest No. 3 seed heading into the tournament and are currently red-hot.
Aside from a lackluster first half against Murray State, the Golden Eagles have been one of the top teams in the entire tournament, winning their two tournament games by a combined 29 points.
With one of the easiest remaining roads to the Final Four, Marquette is a team nobody wants to play.